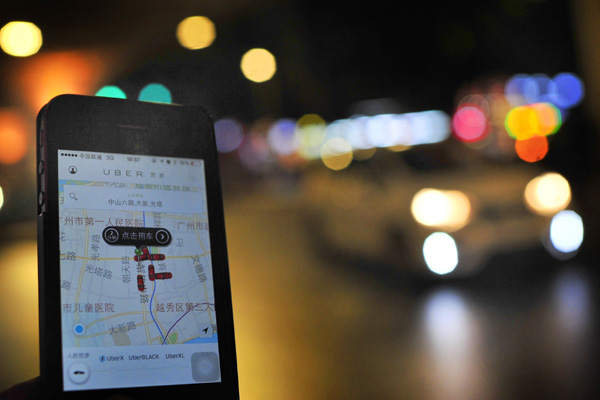 The car-hailing mobile app of Uber Technologies Inc. [Photo/China Daily]
The raid last week on an office of Uber Technologies Inc in southern China, part of a broader crackdown on illegal taxi services using private drivers, has inspired calls for the government to break taxi companies' monopoly on licenses to meet the growing need of for-hire vehicles in China.
The company behind the United States-based car-hailing app may have been operating without a business license and organizing private drivers to offer unlicensed taxi rides in Guangzhou, the capital of Guangdong province, local authorities said.
The Uber office was unable to provide a business license to officers when they raided the office last Thursday, the city's bureau of industry and commerce told China Daily.
"We are still investigating whether Uber has obtained a business license. If not, we will penalize the company and encourage it to register and obtain a license," said a media officer surnamed Liu at the bureau.
It is illegal to use private cars to offer unlicensed taxi rides, according to the traffic committee of Guangzhou. The city's traffic officers have recently uncovered multiple cases of illegal taxi services via car-hailing mobile apps and fined the private drivers 30,000 yuan ($4,833).
The door of Uber's office in Tianhe district was still locked on Monday afternoon, despite a notice on it saying that operations would resume on Monday after the three-day Labor Day holiday.
The company had not responded to China Daily's interview request as of press time. The app is still functioning but activity has slumped since the raid, said an Uber driver who gave his surname as Pan. The driver admitted that he was worried about being caught and fined by traffic officers.
According to the Ministry of Transport's regulations covering taxi services, a vehicle must have a permit from traffic authorities for business operations, and the driver must be certified to offer taxi services.
However, taxi companies have a monopoly on obtaining licenses from traffic committees, which does not match the market demand for diverse taxi services, according to Cao Zhiwei, a member of the political advisory body of Guangzhou.
"Taxi drivers must give 350 yuan per day to the taxi company (they work with), but they cannot refuse, because they cannot get a business license without the company's help," Cao said.
"A taxi driver also wastes a lot of time driving around and searching for passengers, because taxi companies haven't embraced car-hailing mobile apps and they still use outdated methods using phone calls."