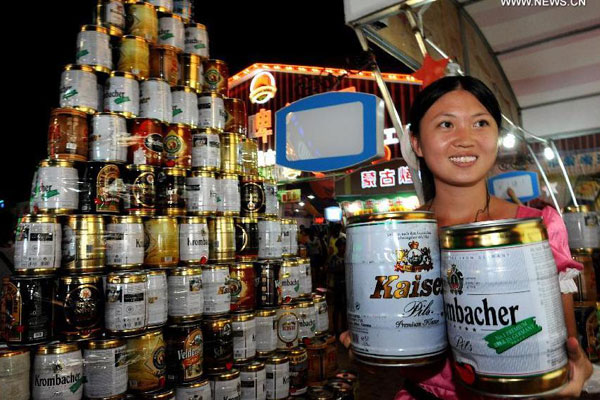 A waitress serves beers for customers during the 23rd Qingdao International Beer Festival in Qingdao, East China's Shandong province, Aug 25, 2013. [Photo/Xinhua]
Beer is outstripping liquor and wine in terms of profitability in China, according to industry sources, and it's one of the few bright spots for alcoholic beverages amid a government crackdown on luxury spending that's hit sales of more prestigious drinks.
He Yong, secretary-general of the beer branch of the China Alcoholic Drinks Association, told the 2014 China Beer Industry Annual Summit in Beijing on Wednesday that beer is the only part of the alcoholic beverage market that saw its profits grow last year. Beer producers' profits were up 21.5 percent last year.
Revenue in the beer industry reached 181.4 billion yuan ($29 billion) last year, up 9.3 percent. Output grew 4.6 percent to 50.62 million kiloliters.
The most significant growth is taking place in the western regions, but the eastern and southern parts are still the major beer consumption areas, accounting for 34.2 percent and 28.4 percent, respectively, of the national market.
Analysts have said that beer is benefiting from the government's campaigns against lavish consumption, especially that paid for with public funds. He admitted that these campaigns have affected beer sales, but strong consumer demand has offset that impact.
"Production and sales of the five major beer groups account for nearly 80 percent of the market," he said. Those five are Carlsberg China, China Resources Snow Breweries Ltd, Anheuser-Busch InBev SA, Tsingtao Brewery Co Ltd and Beijing Yanjing Beer Group Corp.