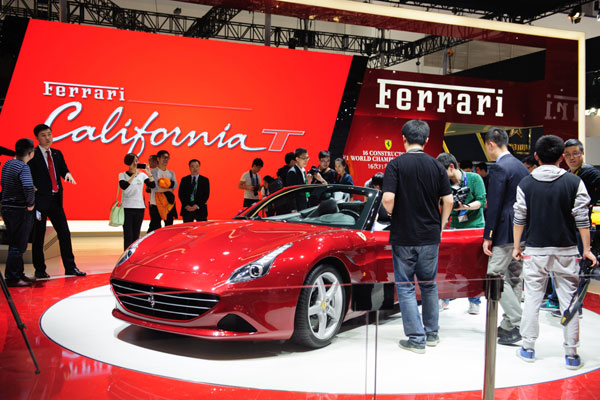 A Ferrari sports car is displayed at the Beijing Auto Show on Sunday. Provided to China Daily
Ultra-luxury vehicle producers, especially makers of super sports cars, saw Chinese sales fall in 2013, down from a two-year boom and partly attributed to the central government's ban on conspicuous consumption.
Analysts and industry players said there is still huge potential from local market demand amid fast economic development, and that a healthy and sustainable increase will occur.
"China's passenger car sales maintained strong growth last year as the world's largest; however, the super sports car segment is another story," said Andrea Baldi, Lamborghini's China head.
The Italian super sports car brand saw its 2013 sales drop by 16.7 percent to 267 units in China, its second-largest market behind the United States.
"The challenge in the China market is clearly different from the rest of the world as it is a less mature market for super sports cars," said Baldi.
Even though it is slowing, Baldi still believes the super sports car segment in China will continue to grow.
He attributed the company's sales decline from its best performance of 342 units in 2011 to a product upgrade and a period of delivery shortages of Gallardos, the most popular Lamborghini model in China.
Though total sales numbers dropped, Baldi said 2013 was still a positive year for Lamborghini as another model, the 7-million-yuan Aventador, enjoyed its best year in China.
British brand Bentley suffered a similar situation in 2013, supplying zero units of flagship Flying Spur in the first nine months due to the model's upgrade.
Bentley delivered 2,191 vehicles to Chinese customers last year, a dip of 2.8 percent from the previous year. However, 927 cars were sold in the fourth quarter, thanks to a sufficient supply of Flying Spurs, which accounted for half of Bentley's sales among its three models.
Bentley said it was "pleased to see a sales surge of 46 percent from its Continental GT two-door sports car".