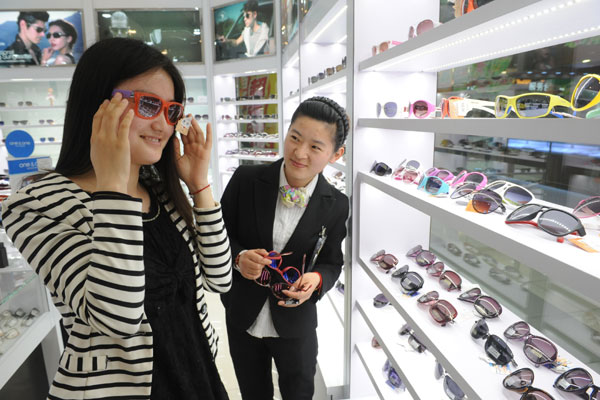 A customer chooses sunglasses in a department store in Fuyang, Anhui province. Consumers in China's second- and third-tier cities are now the primary drivers of consumption growth. Wang Biao / For China Daily
Barns' US-China career path reflects the shifting sands of a globalized market
From West to East, then East to West; this is how globalization is shifting, according to Nielsen Holdings NV's global Chief Executive Officer Mitch Barns.
The process reflects Barns' career path and changes to Nielsen's China business portfolio.
Barns became CEO in January, heading a leading global provider of information and insights into what consumers watch and buy.
He was elevated from Nielsen's US media business where, from 2011 to 2013, he oversaw the development of its analytics practice and integrated its TV and digital groups.
From 2008 to 2011, Barns was president of Nielsen's Greater China business where he guided it to become a fast-growing and stand-alone region for the company.
His Chinese experience, Barns said, enables him to better understand the country's role and allows him see the world from both West - East and East-West perspectives. It is very valuable in his current position.
The company is striving to develop more local clients, especially as increasing numbers of Chinese companies are accelerating overseas expansion.
"Our business with local clients grew strongly - double digits - last year, significantly higher than multinational companies," Barns told China Daily. For him, this is a perfect example on how globalization's moving.
It's also true with Nielsen's new business model centered on "four practices" - which it first carried out in Southeast Asia and expanded globally, including to the US where the company is based.
The four practices, Barns said, are: identify consumers; innovate based on clients' needs; improve marketing; optimize business performance.
Nielsen has strong expectations for its business and profitability in China this year, despite slow growth in the economy, Barns said.