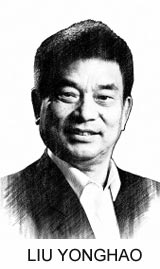 I've submitted three proposals this year. One calls for more policy support for private enterprises; the second is about improving financial and insurance services for the agricultural industry; the third is about reducing losses of farming companies amid the H7N9 influenza. All three proposals are closely related to my business.
1) China has about 12 million registered private companies, which create 85 percent of the jobs in the country. Private business is playing an increasingly important role in China's economic growth. But private companies are in dire need of equal treatment with the State-owned enterprises, such as in administrative approvals. And there should be policies to encourage private investment in State-owned enterprises. The government should issue a list of SOEs in which private enterprises can invest. The protection of private assets should be upgraded, too.
2) A modern agricultural industry needs the support of insurance services. I suggest the central government give direct subsidies for agricultural insurance in the country's central and western regions, and in the agriculture-focused regions. And there shall be more varieties of farm insurance to help companies better handle risks. In addition, more policy support should be given to financial institutions that mainly serve the agriculture business.
3) The H7N9 influenza has caused great loss to some livestock companies. I suggest the government seriously consider policies to help such companies withstand such crises, such as issuing more subsidies, keeping them better informed, giving them more guidance on immunization, etc. And I suggest the government properly name the virus. The Chinese name of the virus suggests it's about poultry, but it's not very accurate. That has caused huge loss to the poultry industry, particularly the large-scale ones.


Remarkably, the central government has cut administrative approvals. Some of the approval rights have been delegated to the local governments, while others have been granted to the market. The biggest change we've felt is in the reform of company registration, which allows us to set up a company much easier and faster. I hope future reform will give the market a bigger say-for example, letting the market decide the quota distribution of imported corn. There is a big need for imported corn among feed and animal husbandry companies. It would be ideal for the supply to be based on the actual need. Even if we cannot achieve that because of the import quota limit, I hope private enterprises will be treated equally with their State-owned counterparts. Right now, private feed and animal husbandry companies represent about 90 percent of the market but get only 40 percent of the imported corn. That's not fair. 



I won't be an emigrant. I've been a national political adviser for about 20 years and became an NPC deputy last year. As stipulated by law, political advisers or national legislators must be Chinese citizens. Being an immigrant and investing overseas are different, and I hope the public is aware of that. Many Chinese entrepreneurs have invested in other countries, and so have I. I think the Chinese market is still the most vigorous market in the world, full of opportunities, so I won't leave. But if the government can better protect private enterprises, I think more people would choose to stay.


Premier Li Keqiang said in the Government Work Report that property rights are inviolable in both the public and non-public sectors. It's very, very important, and that's what we've called for for years. I think there will be progress in this sector since the premier has made the pledge. In particular, local law enforcement authorities should improve the protection of private assets while they're handling cases.

----- LIU YONGHAO Chairman of New Hope Group.
An NPC deputy of Sichuan province.
Ranking 17th on the Hurun China Rich List 2013 with net worth of 34 billion yuan ($5.54 billion).