Editor's note: In 2010, a series of employee suicides cast a dark cloud on Foxconn Technology Group and its most well-known partner Apple, Inc. Over the past four years, the company that puts the finishing touches to Apple's popular iPad and iPhone products, has had to reboot its own image.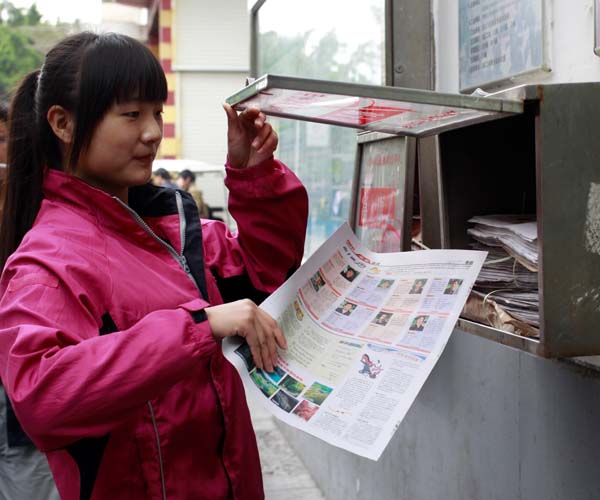 Jiang Caixia takes a newspaper from the free news booth inside a Foxconn factory in Longhua, Shenzhen, on March 6, 2014.[Zou Zhongpin / chinadaily.com.cn] 
"Sometimes I look at iPhones that people use, people who walk pass by me on the street or on TV, and I think to myself that I probably made that one."
Jiang Caixia, who checks 2,000 iPhones on a production line for eight to 10 hours a day for scratches or dark spots, plays with her old
Huawei
phone that she bought for 1,000 yuan. Wearing a pony tail, this 21-year-old is shy and skinny in her Foxconn uniform.
"I can't afford iPhones," she admits quietly with a nervous smile, eyes glittering with a maturity not often seen in city girls her age. "Huawei makes cheaper phones and most of my friends use their phones."
Foxconn fact box
Taiwan's technology giant Foxconn, also known as Hon Hai, is the world's largest maker of computer components.
Founded in 1974 by Terry Guo, Foxconn opened its first mainland manufacturing plant in Longhua, Shenzhen, in 1988. Now the company has about 30 factories and one million workers across China.
Longhua factory in Shenzhen has 16,000 workers. The average age of workers at Foxconn is 23 and the sex ratio is six men to four women.
Foxconn's trade volume in 2012 was 174.6 billion yuan ($28.9 billion). Forty percent of Foxconn's overall revenue comes from Apple.
Foxconn saw a 13 percent rise in net profit to $3.5 billion in 2013.  
Jiang came to Shenzhen two years ago after graduating from high school in a
villa
ge in Jiangxi. Like many other rural girls, she wanted to make money so she could help her family financially. "I followed my older brother here… my parents wanted me to find a job in a supermarket back at home, but I thought there were more chances here."
"The base wage is 2,500 yuan a month and I can make about 3,700 or 3,800 yuan if I work overtime," says Jiang. Living in a dormitory inside Foxconn factory, her normal work day starts at around 7:15 am and ends at about 6 pm, with a 30-minute lunch break in between. She sits through her job carefully examining iPhones that she cannot afford.
"I want to go to Foxconn's IE University for some training programs," says Jiang when asked about her future plan. "I'm pretty happy with the work environment here and hope to get a degree that can be useful in the future."
Like most Chinese girls her age, she is obsessed with Korean TV dramas and pop music. "I've been watching one called 'My Love from the Stars' and it's so good. Girls in my dormitory get together and watch it every day," says the young migrant as her face turns red and she begins playing with her bangles, looking happy and confident for the first time.
"I wanted to be a soldier when I was a little girl simply because the uniform looks super cool," Jiang smiles innocently. When the childhood dream faded out and clashed with reality, Jiang chose to take responsibility of the family by becoming a worker in Foxconn, which has more than one million employees across the country.
"I guess I will work here for a few more years and maybe go back home after that," she says. "My parents are getting old and I want to be with them."
"Sometimes I look at iPhones that people use, people who walk pass by me on the street or on TV, and I think to myself that I probably made that one," sighs Jiang.