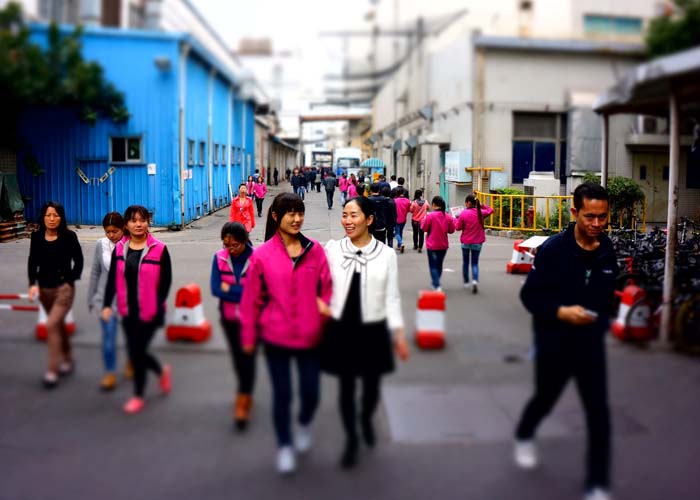 Sun Xiaoli (right) walks with Jiang Caixia (left) during lunch break at the Foxconn factory in Longhua, Shenzhen, on March 6, 2014.[Zou Zhongpin / chinadaily.com.cn] 
"Foxconn is not a sweat factory."
Wearing a white blazer and a black skirt, it's easy to spot Sun Xiaoli among the crowd walking in Foxconn uniforms. The 36-year-old came to Foxconn 16 years ago as an entry-level worker and is now assistant production manager and mother of two.
"Foxconn is not a sweat factory as so many claim," says Sun without hesitation the minute the topic about the company's working environment comes up.
"When I first came here, my job was to put buttons on computer panels. The opportunities here are good that's why I'm where I am right now," she says.
Sun, who works about eight hours a day, says the biggest change in her years of employment here has been the environment. "I used to be so glad whenever we got to work extra hours because we could make more money," says Sun. "I didn't know there was a law that said that you were not allowed to work over a certain amount of hours."
"Young workers nowadays know how to defend their rights and the environment is changing. Not only people want to make more money, they also want to enjoy working," she says.
While working on a production line can hardly seem to be enjoyable, Sun found a way to make Shenzhen home. After getting a technology degree (vocational qualification) at Foxconn IE University, she climbed up the ladder by working hard. "Now I own an apartment with my husband and he also works for Foxconn."
Sun makes 16,000 yuan per month and has hired a nanny to take care of her two children. Beside her regular work, she has also formed an association to defend women worker's rights that has a hotline that women can call if they have any problems, whether it's about family, friends or love life.
Coming from a farmer's family in Hubei, Sun is one of the few migrant workers who actually made it with her city dream. "I want my kids to grow up happily," she says smiling. "I will not tell them what to do or what not to do. I will provide them with the best I can offer."