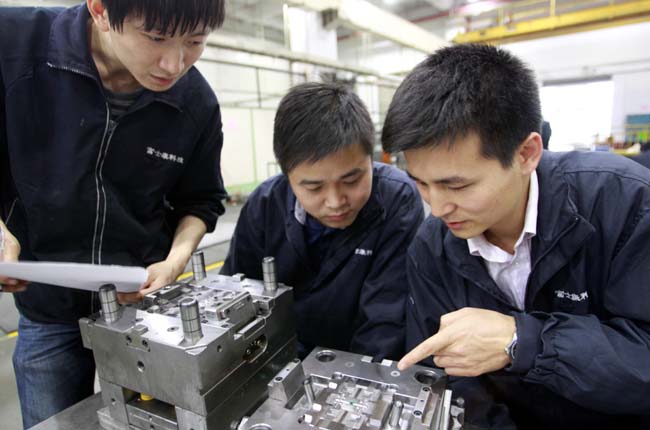 Li Guizhen talks to coworkers by a moulding desk inside a Foxconn factory building in Longhua, Shenzhen, on March 6, 2014.[Zou Zhongpin / chinadaily.com.cn]  
"I take Huawei's bus to go to mosque to offer prayers."
Li Guizhen hunches over in front of a desk with moulds scattered on the desk and discusses work with his coworkers. The city, which he calls home, has seen the changes in his life as a migrant worker in the past 12 years. Now he is a section manager of a production line and the father of two. The only identity that hasn't changed is his religion.
Born in a Muslim family in Ningxia Hui autonomous region, Li and his two younger sisters were living a hard life with their parents before moving to Xinjiang Uygur autonomous region. Being the only boy in the family, Li left Xinjiang in 1998 and started working at Foxconn in 2000.
"The company doesn't have a canteen that serves halal food, but there are Muslim restaurants near the factory," says Li, who either eats at the nearby restaurants or brings food to work. "Every Friday I get time off to go to mosque to offer prayers," he says.
"Huawei has a bus that takes their Muslim employees to the mosque and they stop in front of Foxconn and take us with them," says Li sounding grateful. "It's great that I get to meet other Muslims in this city and it's always a happy time for me."
China's technology giant Huawei has a factory just across the road from Foxconn in Longhua, Shenzhen.
Although Li left Foxconn in 2003 because he was missing his family, he came back a year later as things were not working out well.
"The day I came back was my birthday, and I thought it was such a coincidence. I returned with a clear goal and things have picked up for me," he says. "Now I manage a team and make more than 6,000 yuan a month."
Li rents an apartment near the factory. His wife quit her job not long ago to take care of their two children.
"I will educate my kids about our culture and our beliefs, but I won't stress them out about it. They themselves can choose to become the people they want to be," Li said.
"My four-year-old, who has never been back home, loves eating lamb. She craves it if we don't cook it for a while," laughs Li thinking about his daughter. "It's amazing. It's as if it runs in the genes."
Li, who seems satisfied with his work and life in Shenzhen, says he hopes his family is happy with his career choice. "My father bought a 120sqm apartment back home and now he can finally enjoy his life."