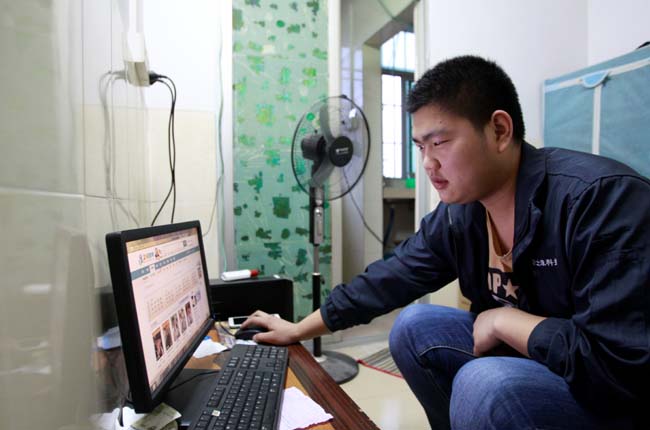 Lu Erfeng sits in front of his PC in his apartment in Longhua, Shenzhen, on March 6, 2014.[Zou Zhongpin / chinadaily.com.cn]  
"No talking, no listening to music while working, I'm so sick of working here"
It was 8am, Lu Erfeng was heading back to his studio apartment, a 30-minute walk, after the night shift. Passing through the dusty and zigzag roads by the highway, Lu's tiny apartment on the seventh floor is hidden deep inside the busy neighborhood.
A single bed, a cardboard box for a side table, an old desktop computer and a toilet is all that the 21-year-old calls home and which costs him 400 yuan per month in rent.
"I'm so sick of working here", Lu keeps repeating.
"My job is boring and depressing. I just don't see the end of the monotonous work and life", says the broad-shoulder worker who looks big sitting on the small single bed.
Lu says his daily job is to punch out motherboards for Apple computers. He works eight to 10 hours a day punching out 3,000 to 4,000 motherboards six days a week.
Lu is from a farming family in Henan. His parents and brother are all migrant workers employed in different parts of China. He began working at Foxconn when he was 17 and has been working here for five years. When he first started he made 900 yuan a month. "The pay rose after the suicide incidents but the money doesn't last for long", he says.
"They (the workers who committed suicide) must have been too depressed. I can imagine what they were going through", says Lu quietly.
"I make about 3,000 yuan a month and usually can save about 1,500 yuan", he says. The young workers usually spend their money the day they get paid on expensive cigarettes and nice things for themselves. "Money runs out fast", shrugs Lu.
"I'm expecting my paycheck tomorrow", he says looking embarrassed and frustrated. "I have just one yuan left on me", says Lu.
When Lu's not working, he watches movies through online-streaming websites. "I watch basically anything, especially Hollywood ones that have lots of fight scenes in them", he says throwing his fists about a bit and smiling shyly.
"I have handed in my resignation, so will be out of here by the end of March", says Lu, looking relieved. "When you are at work, you can't talk to each other, you can't listen to music. If you break the rules, the boss will come and scold you".
He doesn't know yet where he is going to go. The word 'career' looks a little bit too far, and too vague for him. "Maybe I'll go home and start a small business or something".
"I call my family only once a month, because I don't know what to say to them since I don't make much money", says Lu with disappointment on his face. When asked what's the most important thing in his life, he says without any hesitation: family.
"My biggest dream is to take my whole family on a trip, I don't care where, but just want to be with them", says Lu.
This is the second part in a series of stories we will run that will focus on everyday life of Foxconn workers, so please watch this space for more in-depth reports, amazing photographs and wealth of data that capture and reveal the struggles and achievements of men and women who toil day and night so that we can have latest iPads and iPhones.