The World Bank lowered in March its forecast for China's economic growth this year to 7.6 percent from 7.7 percent, taking into account industrial output and export data in the first two months.
"Our business is not so closely correlated with the GDP growth," Barns said. "As the market is largely under-penetrated, we still have a huge growth potential, especially when China is undergoing an economic restructuring."
China is shifting its economy to being consumer - rather than investment-driven, and Nielsen's business is highly focused on consumption.
Statistics show the consumer sector accounted for 35 percent of China's GDP in 2012. The global average was 65 percent, pointing to the country's huge growth potential.
Chinese household savings rate as a percentage of disposable income almost doubled from about 16 percent in 1990 to more than 30 percent two decades later.
"Challenging times, in fact, will provide us more opportunities as our clients need to know more about their customers to improve their business," said Barns.
Nielsen will make greater efforts to explore China's e-commerce sector and develop more local customers.
"With the fast growth of China's e-commerce sector, we will seek cooperation with all major players in this field," Barns said.
China's government has called for online companies to boost activity and be a key driver of domestic consumption. Potentially, it's a great opportunity for the sector.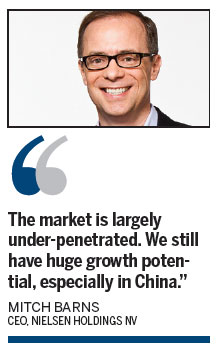 "Today, no marketer's approach to China will be complete without a robust e-commerce strategy," Barns said. "Crucial here is the distinct openness we see from Chinese consumers towards mobile payments."
Nielsen will put more effort into developing local customers, especially in the finance and auto sectors. Clients in these areas remain by far Nielsen's largest revenue source.
Meanwhile, after sealing two big merger and acquisition deals last year in US, Nielsen is seeking such opportunities in emerging markets, like China, Barns said.
It agreed in November to buy New York-based Harris Interactive Inc for nearly $116 million. Harris will be woven into Nielsen's "buy" business segment, providing information to manufacturers and retailers.
In September, Nielsen completed its acquisition of Arbitron Inc, an international media and marketing research firm. It has been rebranded as Nielsen Audio and is integrated into Nielsen's "watch" business segment that provides information and insights primarily to the media and advertising industries.
"It is a natural choice for a cash-flow-healthy company, to look for M&A opportunities for growth. We of course are looking for opportunities in China this year," Barns said. "We will consider M&As to fill a business gap, enter a new area or acquire talents. Our searching for M&A opportunities in China will cover all these categories."
Targets will be local companies, Barns said.