For Andrea Baldi, managing director of Italian super sports car maker Automobili Lamborghini SpA in China, 2013 was still a successful year for the Raging Bull to record, though the company reported a sales decline from the previous best two years. Yes, the super sports car brands, which only have two or three models, cannot directly be judged through the simple sales figures, especially when one of the models experienced supply shortage due to upgrade, just like its Gallardo last year. Therefore, Baldi shares the secrets behind the impassive numbers and his perspectives on the brand's future development in China with China Daily reporter Li Fangfang.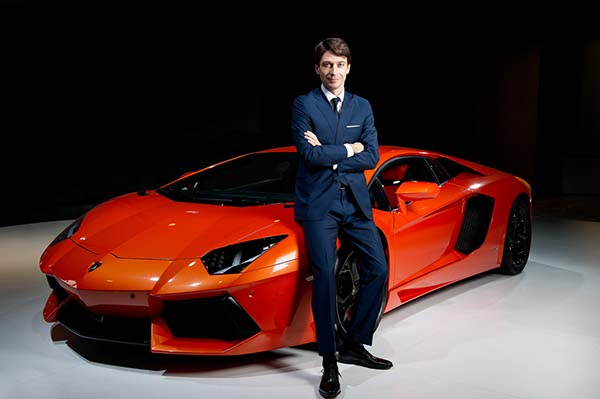 Andrea Baldi, managing director in China for Lamborghini, says the supercar will get more traction as the market matures and the Italian company diversifies its product portfolio. [Provided to China Daily]
What does 2013 mean to Lamborghini after it reported a double-digit sales decline in China?
First, Lamborghini sold a record 342 units in China in 2011, the first year we had a very aggressive presence in the market with the two-wheel drive.
The price positioning was quite aggressive as well. We generated a lot of sales also because we gave more cars to China than in other markets.
Second, a lot of competitors were not in the market then, like McLaren and Aston Martin.
Though sales declined, we still see 2013 as a successful year as our market share in China was the highest among the world's top five markets for super sport cars. That means Lamborghini is extremely successful in China compared with the rest of the world.
The Aventador, our top-of-the-top model priced at 7 million yuan, enjoyed its best-ever year in China. A number close to 100 units last year was really impressive for us.
Will Lamborghini pick up sales in 2014 and how?
I am confident about this year because we will move to a new car - the Huracan, the replacement for the Gallardo - which will definitely attract a lot of new customers after deliveries start in July.
The local economy is another factor that makes our market keep growing. It's very likely that China's GDP will keep increasing at a stable rate.
I will also say that customer behavior is becoming significantly more mature. This makes me think that our lead in this niche market will continue to grow.
What's your expectation for Lamborghini further in the future?

In the coming years, I think super sports cars in general will become extremely popular compared to now.
We can say there is still some cultural resistance about super sports cars. Their performance is still not being expressed to the full potential.
I think in 10 years you will see a dramatic difference and this again brings us back to the importance of the China market.
In my view China will take approximately 8 percent of the sector by the end of 2014. And in 10 years, this 8 percent could become at least 15 percent.
I expect the market to double in size in 10 years to become the biggest in the world.
In this specific market, Lamborghini will play a stronger role thanks to new products and versions of the cars we will launch.
Lamborghini is working on an SUV model, the Urus, which will open another market for us, the passenger car market.
Lamborghini will become a brand that manufactures with a wider perspective. Because the SUV is clearly a key segment in China, we also have great expectations.