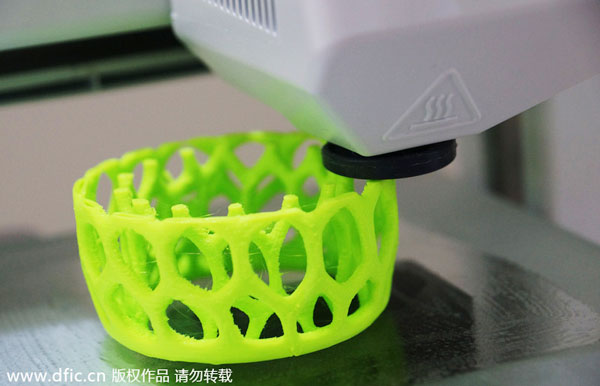 A 3D printer makes a product at a 3D printing store in Tianjin, China, July 18, 2013.[Photo/dfic.cn]
Entrepreneurs are hoping to create a gold mine out of the innovative technology, Shen Jingting reports from Hong Kong
If a picture is worth a thousand words, then surely a physical model is worth a thousand pictures.
At the Hong Kong Spring Electronics Fair and ICT Expo held in mid-April, thousands of exhibitors busily tried to garner attention from an even larger group of international dealers. Among them, Wan Li, chief executive officer of a Beijing-based 3-D printing startup, tried to do everything possible to help his company earn its first pot of gold.
On a table at his booth, the 32-year-old entrepreneur carefully arranged a 20-centimeter-tall human statue, a cartoon figure from the Despicable Me
movie
, a bucket and two delicate rings - all made of resin and created by his company's 3-D printer.
Next to those items stood a cuboid machine wrapped in yellow, transparent plastic. It was easy for people to look through the plastic wall and see the hammer-shaped equipment inside and liquid resin underneath it.
Wan, a Tsinghua University graduate, said the strange-looking machine was a 3-D printer invented by his company. Wan co-founded Beijing Ten Dimensions Co Ltd with three other university alumni at the beginning of this year. The company is dedicated to developing and selling high-resolution 3-D printing systems, at competitive prices, to small and medium-sized enterprises.
"For clients such as designers, a 3-D printer allows them to turn imagination into reality in a very short period," Wan said. Also, compared with words or pictures, a solid product delivers the most information for a designer to send out.
Seeing a huge potential in China's 3-D printing industry, Wan left the private manufacturing company where he was employed a year ago.
He is determined to create affordable industrial 3-D systems. Beijing Ten Dimensions sells professional-grade 3-D printers at $7,000 each, significantly lower than the global industry average of about $79,000.
The technology of 3-D printing, which originated in the 1980s in the United States, can form objects through the deposition of a material, usually layer upon layer, out of 3-D digital data. It is now most commonly used for modeling, prototyping, tooling and short-run production applications.