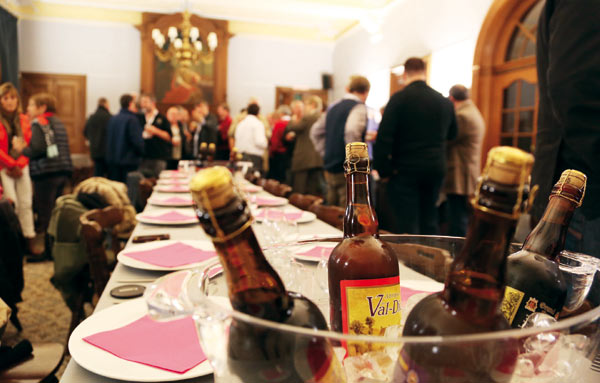 Val-Dieu, one of the abbey breweries in Belgium, was the location for a dinner at the international Brussels Beer Challenge 2013. [Photo / China Daily]
Rising demand for rare ales from Chinese people cheers European breweries
Beer lovers from China and other emerging markets are frothing up sales for Belgian brewers, with shipments from Antwerp to Chinese ports witnessing a steady growth.
Although Belgium makes some of the finest beers in the world, sales across most of Europe have remained lukewarm in the past few years because of the continuing financial crisis. Sales, however, from Belgium to China, which started more as a test-marketing venture, have instead blossomed into a big business.
By 2012, the size of the beer market in China had grown to more than 47.5 billion liters, making it the largest beer-drinking market in the world. Now, more Chinese have started developing a taste for the small-scale craft beers and Trappist ales, made by monks, from Belgium.
Nothing sums up the business potential of premium boutique ales more than the sight of Mercedes Wong sifting through huge stacks of bills and other paperwork in her office in Waterloo, near Brussels, even as she keeps dialing the same number repeatedly from different mobile phones.
Wong is one of the Chinese specialists based in Belgium who collects and ships Belgian beers to China. Her mission this time around is even more daunting because she has been tasked with procuring a shipment of the rare Westvelren beer.
Westvleteren is one of the most difficult beers to procure because monks from the Trappist Abbey of Saint Sixtus, in Westvleteren, control its production and sales. Since only limited quantities of the top-quality beverage are made, it commands a huge premium in global markets, Wong says.
"Advance reservation is required and you can use your phone number to pick up or reserve just one case of beer every 60 days. That makes it difficult for collectors like me," she says, adding:"Patience is not enough. You also need luck, as the monastery says on its website."
Thomas Costenoble, general manager and organizer of Brussels Beer Challenge, says: "There are only nine Trappist beer monasteries in the world and of these six are in Belgium, two in the Netherlands and one in Austria."
Belgian beers from the Trappist breweries are Achel, Chimay, Orval, Rochefort, Westmalle and Westvleteren. It is these brands that are now in great demand with high-end Chinese customers, Costenoble says.
Demand for smaller Belgian craft beers is also rising steadily. In most cases, production is not enough to cater for demand, he says.
Michael Pelsser, the managing director and owner of Val-Dieu, another well-known abbey beer from Belgium, says his brewery is already enjoying a good year in China. "We entered the Chinese market in 2013. Although it is still early to gauge the exact growth potential, sales have been growing steadily, especially from five-star hotels in Beijing and Shanghai."
Val-Dieu Abbey was founded in 1216 by a group of Cistercian monks but, after the monastery closed, the present brewery was only set up there in 1997 by the Pelsser family. The annual output has been maintained at around 1,000 liters, with 80 percent going to the local market and 20 percent for exports. Pelsser says that growing demand from China may prompt the company to consider increasing the annual output.
Pioneering move
Coincidentally, 1997 was the same year Yu Xiaoning shipped his first container of Belgian beer to China, little knowing that it would lead to a business worth 300 million yuan ($49.5 million).