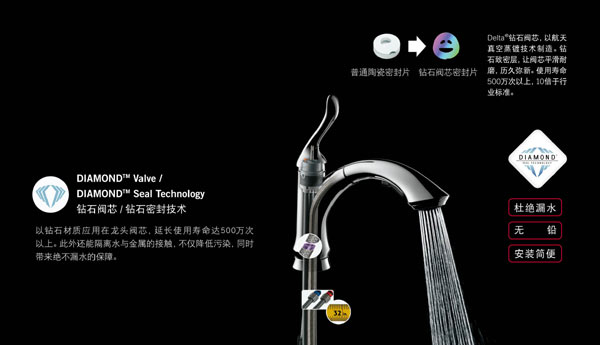 Innovative solution that promises to ease installation of kitchen and bath faucets and provide long-lasting performance has been launched by Delta Faucet, an American company.
The proprietary technology called Diamond Seal Technology, which is now available on a wide range of widespread bath faucets and two-handle kitchen faucets, in addition to a number of single-handle kitchen and bath ones, combines a durable Diamond Valve with InnoFlex PEX waterways.
The valve requires no lubrication, eliminates wear on seals, and ensures "like new" operation for the life of the faucet – up to five million uses, which is 10 times the industry standard, while the InnoFlex waterways eliminate potential leak points and are less hassle to install. And, with Diamond Seal Technology, water does not come in contact with metal surfaces once inside the faucet, meeting all current and upcoming US lead free legislation.
"We've made it easier for builders and homeowners to bring reliable Diamond Seal Technology into the home by adding it to two-handle faucets in some of our most popular kitchen and bathroom collections," said Kurt Backlund, Delta Faucet senior director of product marketing.
"Besides enhancing the performance and durability of the faucet, our customers will love the flexibility the technology brings to the installation process."
The handle limit stop on Delta Faucet's Diamond Valve cartridge makes it easy to limit the range of the handle motion for hot water from full flow to a 50/50 mix. This feature is the smart choice to protect sensitive skin from scalding.
About Brizo and Delta®Bath and Kitchen Faucets Featuring DIAMOND Seal Technology:
Available Brizo® Collections
Vuelo, Solna and Belo bath collections
Available Delta® Collections
Addison®, Lahara® and Trinsic® bath collections
Addison®, Cassidy™, Fuse™, Linden™, Pilar® and Trinsic®kitchen collections
WaterSense® Labeled
Delta Faucet Company takes its role as a WaterSense partner very seriously and is committed to working with the U.S. Environmental Protection Agency (EPA) to encourage efficient use of water resources and actively protect the future of our nation's water supply.
All Delta® lavatory faucets are WaterSense labeled and offer 32 percent water savings over standard lavatory faucets.
Designed for Various Applications
DIAMOND™ Seal Technology in the two-handle widespread application allows the faucet to be installed on surfaces up to 57 mm thick in the lavatory or 63.5 mm thick in the kitchen, making it an ideal solution for quartz or granite countertops.
The DIAMOND™ Valve for two-handle widespread faucets features a 6.3 mm turn with brass stems to prevent the handle from hitting the backsplash and for extra durability.
Two-handle widespread faucets with DIAMOND Seal Technology offer maximum flexibility in mounting by allowing the faucet to mount from 101.6 mm to 406.4 mm centers, eliminating the need for mini-widespread options.
Self-centering mounting bushings on two-handle widespread faucets with DIAMOND Seal Technology help center the valves and spout in the hole on the sink, making it easier to align the valve.
Kitchen and lavatory faucets with DIAMOND Seal Technology feature a John Guest® fitting ("w" fitting for lavatories, "y" fitting for kitchens) with a dual o-ring seal to help prevent leaks.
For pedestal lavatory applications, Delta Faucet offers decorative supply line covers in two options: a braided vinyl look in coordinating colors and copper tubing in finishes designed to match the faucet.
About Delta Faucet Company
Founded by Masco Corporation in 1954 with the introduction of the single-handle faucet, Delta Faucet Company is proud to be America's faucet innovation leader, featuring Delta®, Brizo® and Peerless® products. A WaterSense® partner of the U.S. Environmental Protection Agency, Delta Faucet is a global organization that offers kitchen faucets, bath faucets, shower heads, shower systems, toilets and related accessories, selling products in more than 53 countries. For more information, visit worldwide.deltafaucet.com.