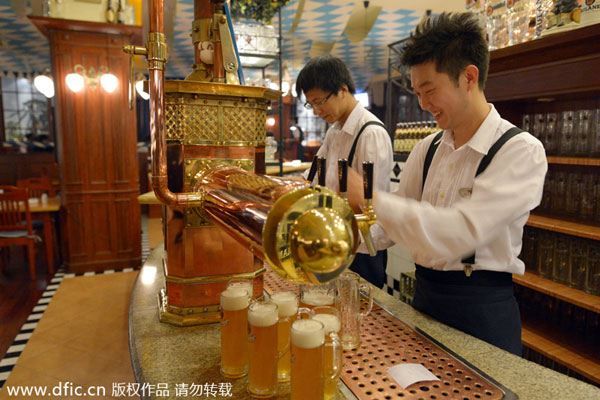 Self brewed beer is offered at the restaurant and bar 'Paulander Munich' located in a hotel in Shenyang, China, Oct 13, 2012. [Photo/dfic.cn]
Stephen Maher, chief executive officer of Carlsberg China, said the industry's annual growth rate has been halved to about 5 percent because of lower per capita consumption, excess production and a crowded field of brands that confuses drinkers.
He said premium brands are the way to increase razor-thin profit margins. Within 10 years, premium beer products will account for 20 percent of the market in China, but they'll generate 50 percent of the profits.
Zhao Zekai, general manager of Chongqing Beer Co, in which Carlsberg became the controlling shareholder at the end of 2013, plans to focus on central and eastern China. He said that the acquisition is providing international knowledge, marketing and distribution skills.
Zeng Shenping, general manager of marketing for China Resources Snow Breweries, said that industry consolidation is helping boost growth for some brands.
Tsingtao has grown 30 percent annually in the United States and more than 10 percent in European countries, where the local market has been depressed.