Brewing up ever more sales of ales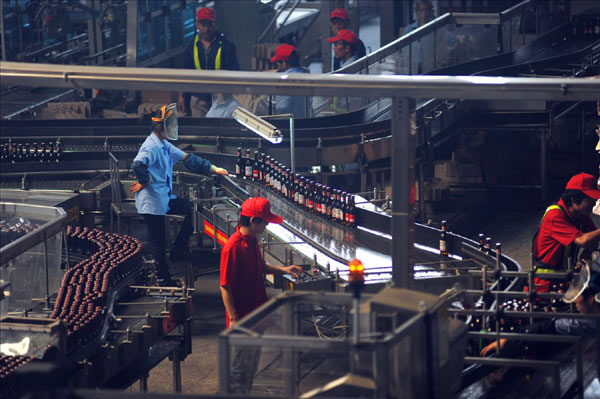 A beer production line. [Photo / Provided to China Daily] 
It's not just the quantity quaffed but the profit produced
A veteran in the brewery industry for nearly a decade, Michel Doukeris' most memorable beer experience can be traced back to Brazil, after he had just started his career.
Every Saturday, after lunch, all the company workers, from managers to porters, would clean up the warehouse together and then line up for three or four jars of freshly brewed beer, he said.
"Cold, fine, fresh. That experience was simple, but has never left my mind," said Doukeris, now zone president Asia-Pacific of Anheuser-Busch InBev, the Belgian beer giant that manages a portfolio of well over 200 beer brands and has been expanding its beer empire in China aggressively.
For Doukeris, beer is the best bond for bringing people together at celebrations and other happy moments in their lives. And in a world that is becoming "more equal than different", he is confident that beer will become even more popular in China.

Competing up
China is the biggest beer market worldwide. It makes up a quarter of all beer consumption globally and is expected to deliver more than 40 percent of the industry's growth this decade, according to market researcher PlatoLogic.
AB InBev sold 57.5 million hectoliter of beer in China in 2012, occupying 13.4 percent of the market share, positioning itself as the third-largest competitor in the China market, following China's local brands Snow and Tsingtao.
However, the booming sales are not reflected in the profits. China is now the seventh largest profit pool for global beer brands, according to UBS AG.
"Margins are going down, instead of going up," said Doukeris, noting that surging costs are the major cause, as well as price competition.
But the brewer regards this not only as pressure but also as an opportunity.
"I think it is better to compete up instead of competing down. I see this in the baijiu industry and it is very inspiring for the beer industry," he said.
Chinese baijiu, a strong distilled grain liquor, has always been the most profitable product in the market. The industry as a whole harvested more than 81.8 billion yuan in profits in 2012, 48.5 percent up year-on-year from 2011.
The profitability of the beer industry is only 10 percent of the baijiu industry, said Fang Gang, a senior market observer.
Premium beer is only 4 percent of the total market share in China, according to Doukeris. And international premium beer is half of this segment. The brewers are competing in a much smaller market but growing quickly, he added.
In fact, overseas beer brewers are trying to shore up profits by promoting their premium beers in China.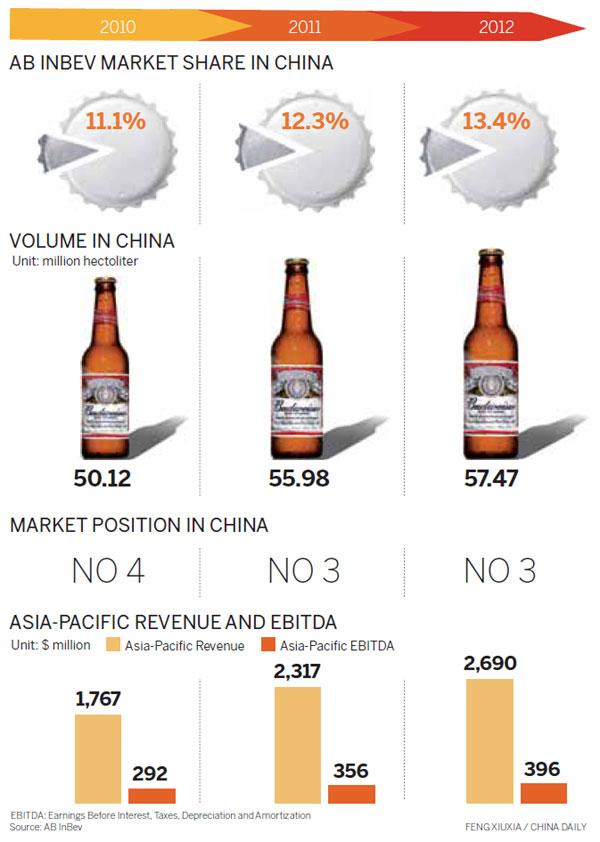 China's per capita beer consumption stands at about 35 liters annually, according to Bloomberg News, which is less than half of the US level and a quarter of that in the Czech republic. The global leading beer brands, including AB InBev's Budweiser, Carlsberg and Heineken are competing to persuade Chinese people to spend twice or thrice more, for the experience of sampling their wares.