3D caught in sharp focus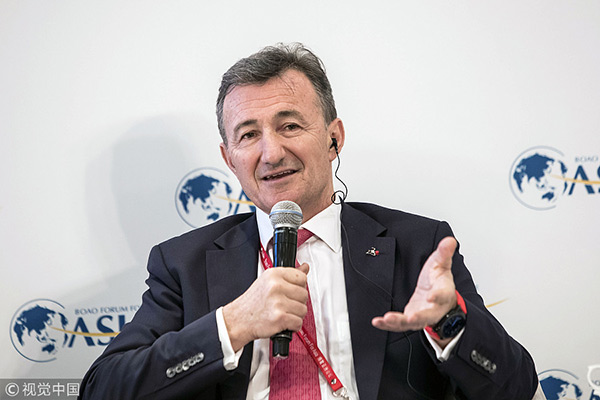 Bernard Charles, chief executive officer of software company Dassault Systemes.[Photo/VCG]

The beauty of virtual reality is that it helps you imagine a better world even if you don't know how to achieve it, says the head of French software firm Dassault Systemes
When Bernard Charles lands in Beijing, one of the first things he does is to open his WeChat account.
The chief executive officer of software company Dassault Systemes started using the Chinese social networking app last year. Since then, his Chinese "contact" list has expanded rapidly.
In a way, WeChat and Dassault Systemes have a great deal in common as they put people together.
The French company creates 3D design software for a range of industries, including aviation, and was involved in China's first homegrown large passenger jet, the C919, which made its maiden flight in May.
"When we set up a collaborative platform to help develop the next-generation civil aircraft in the country, we worked with suppliers from European countries and other nations," Charles said.
"By making them visible to new clients in China, we are building a virtual belt to connect them here," he added.
Part of the massive Dassault Group, Dassault Systemes is based in Velizy-Villacoublay in the southwestern suburbs of Paris and has a market capitalization of $27.3 billion, Bloomberg News reported.
It also has a workforce of 14,000 and a client list which includes China's leading aircraft manufacturer, Commercial and Aircraft Corp of China Ltd, as well as car maker FAWVolkswagen.
Naturally, the world's second biggest economy is an important market.
And as the country increasingly moves into high-value manufacturing, the software giant is looking to increase its presence here.
"We want to be the catalyst and enabler of (helping to transform) manufacturing," Charles said.
In an in-depth interview with China Daily, he went on to talk about Dassault Systemes' vision and strategy in the region and his management style.
What are the positive factors of globalization?
When President Xi Jinping made a speech at the Boao Forum in 2015, I was here. The president said that globalization was good for China and it was a signal for us that the door would be further opened for more companies to participate in this movement.
Yes, globalization brings challenges to the world but it also helps it grow when we keep inventing new kinds of services and solutions for cities. This benefits everyone.
In the era of globalization, the winners are not those with big slices of the market, but those with innovative solutions. The economy is going to be positive if we learn how to cooperate.
What business opportunities do you see as a result of the Belt and Road Initiative?
It makes it easier for companies from different countries to communicate. As we all know, it is quite difficult for a lot of French small-and medium-sized enterprises to showcase their advanced nuclear equipment to the Chinese market.
But with the help of the Belt and Road Initiative, it is becoming much easier. We can even talk about business simply by going on WeChat. I began to use it about a year ago. The number of my Chinese friends and partners is expanding rapidly.
Are you optimistic about your company's future prospects in China?
The need for the country to transform the manufacturing sector is very strong and its Internet Plus strategy is of great importance. The evolution from low-cost to high-value manufacturing and sustainable development will offer significant growth potential.
For Dassault, we want to be the best "catalyst and enabler" of (helping to) transform manufacturing. After all, we have years of experience in China.
What are the differences between the Made in China 2025 strategy, and manufacturing programs in Europe and the United States?
They all recognize the importance of digitalization in the manufacturing sector. Their differences can be told from two parameters-maturity of manufacturing and future ambitions.
Europe is high in maturity and has marginal ambitions in policies. The US has high maturity but their ambition is focused on breakthroughs of new technologies.
China is at a medium level in terms of maturity, but has very big ambitions and this provides an ideal situation for Dassault. We can help accelerate the process and we can develop new manufacturing approaches.
So, in terms of manufacturing, China is very strong and offers big opportunities.
Dassault has been working with virtual reality technology for 20 years to help businesses design their products. How will VR reshape the manufacturing process in China?
The beauty of VR is that it helps you imagine a better world even if you don't know how to achieve it.
The power of imagination is to help us find new solutions to social challenges, such as environmental degradation, even though the solutions are sometimes difficult to achieve in reality.
That is also the power of VR.
Moreover, it encourages innovative cooperation. It is not isolation but integration. VR creates a way for companies to get closer to the market and their production bases, which can help boost manufacturing productivity and save resources.
For example, the world is transporting many things, such as raw materials and waste, every day, which takes time and energy. But now with VR, we can move these things in a 3D world.
For certain types of auto components, we can lift them five times less in reality by using VR (to scan every angle of the products). That saves time and energy especially in China, which is a global manufacturing powerhouse.
Dassault's technology is used in different industries, but rival companies tend to specialize. How do you compete against that?
Balancing the focus of your services and the scope of your business is of vital importance for a company to thrive. Looking at our ambitions in 12 industries, it is not only about what we can do, but what our competitors are doing.
It is never perfect, but if we understand what is valuable, and if we believe we can do it better, then we have to try (to be the best).
Since you took over, Dassault Systemes has gone on a buying spree, but how do you integrate those companies into the group?
We are always at a disadvantage compared to our competitors, especially those from the US, because France is not a big market. From day one, we learn how to do business in different countries, to survive at the beginning and to succeed afterwards.
Our culture is very international. I spend more time outside France than in France. We know how to respect local culture and knowledge. That is a very valuable asset we want to use in our acquisitions.
Also, if you want to convince someone to be with you, it is not only about money. It is about a dream-do we want to do the same things? We always consider that before the money.
Finally, the good news is that our business customers want us to be successful. When I fail to convince my people, I let my clients convince them. Because we are in the business to business sector, our customers are very strong, powerful and demanding.
Our employees always listen to them.
How do you manage and motivate an international workforce?
Diversity is very important to a company's growth. The biggest challenge for us is to motivate our international staff and build up the right management team. We (tend to) hire the right people and coach them to act as one company.
In our business, it is very hard because our clients are very big. When we started in China, it was a small team working with very large clients.
They expected us to provide the same level of leadership for each enterprise. It is also important to ensure that people love working for the company. There must be a good reason to come in every day apart from the salaries.
You visit China at least twice a year. What do you do in your spare time here?
I am always very busy. I try to find a few minutes to go and breathe outside. But my wife is with me this time. There are a lot of things for us to do in our spare time, such as visiting museums, exploring local art and watching innovative plays.
Age: 60
Nationality: French
Career:
2016: vice-chairman and CEO of Dassault Systemes
1995: president and CEO of Dassault Systemes
1988: promoted to president of strategy, research and development at Dassault Systemes
1983: joined Dassault Systemes to develop new design technologies.
Education:
A graduate of the Ecole Normale Superieure engineering school in Cachan and a PhD in mechanical engineering, specializing in automation engineering and information science.
Family:
Married with five children