Sights and sounds of the future
A Harman employee handles a JBL Pulse wireless speaker in a company store in Tokyo, Japan. [Photo/Agencies]
The CEO of Harman talks about the opportunities in China for one of the world's largest providers of connected technologies
Dinesh Paliwal believes a business has to have a driving purpose, an aura of achievements and ambitions.
The president and CEO of Harman International Industries Inc is in charge of one of the world's largest providers of connected technologies for the automotive, audio and enterprise sectors.
In short, this multinational company creates and designs commercial and consumer products.
Harman's reach extends from navigational technology in cars to audio headsets, and from integrated audio, video and commercial lighting to cloud computing.
"You have to have a business with a purpose," Paliwal said. "If it is all about just growing your business, it will hit a roadblock."
The company has more than 20 brands, including Crown Audio, Infinity, DigiTech, Mark Levinson and Soundcraft.
It was also acquired by the Samsung Group, a sprawling conglomerate based in South Korea, in an $8 billion deal, and delisted from the New York Stock Exchange this year.
"We complement each other," Paliwal said at the time.
Last year, the company reported revenue of $7.2 billion, but a financial report has yet to be published since the Samsung takeover.
Still, China is one of Harman's fastest growing markets and vital to Paliwal.
He is often asked, why as an engineer by training, his interests extend to audio and automobiles. For him, the answer is simple.
"All roads cross at a point called technological development, which makes life better," he said.
In an in-depth interview for China Daily, Paliwal talked about the business of sounds and infotainment, as well as the latest technological developments in the auto industry.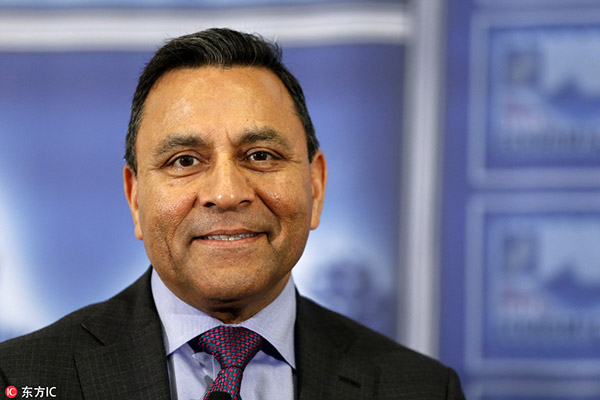 Dinesh Paliwal, CEO of Harman International Industries Inc, one of the world's largest providers of connected technologies for the automotive, audio and enterprise sectors. [Photo/IC]
What was behind the decision by Samsung to acquire Harman?
Both companies, Harman and Samsung, are very complementary. Harman brings the whole connected car and audio management system (to the partnership).
Samsung brings car electronics, semiconductor technology, sensors, displays, 5G network connectivity and artificial intelligence. So, if you combine these two, you have the most comprehensive electronics system and software scope in the industry.
How does this acquisition influence Harman's business?
This new relationship is extremely powerful for all our automakers, our B2B clients and consumers. The implications of this acquisition will continue for years to come.
Samsung is a large company with global scale, and Harman is a market leader with some of the best technologies for audio and the connected car. The acquisition also enables Harman to quickly get scale to expand its products and solutions with access to some of the best research and development resources in the world.
At the same time, Samsung has increased its capability growth in connectivity technologies. Speed and scale are important for connectivity technologies because they have wide applications.
By collaborating with Chinese brands, will Harman expand faster here?
We have a mandate from Samsung to continue our business relationships with all our partners and automotive customers. We are partnering today with Huawei (Technologies Co Ltd) although they compete with Samsung.
We announced a great new partnership with Baidu (Inc), and we will jointly develop artificial intelligence systems for car and consumer audio products. And we will continue to partner with TV and telephone companies.
Harman works as a trusted partner with trusted "firewalls" between the portions of our business that are competitive or require confidentiality.
Interestingly, Samsung already operates in this fashion. For example, while competing with Apple in the smartphone market, they are also the biggest supplier to the company. In cooperating with Chinese brands, we are not changing our strategy.
Harman is regarded as an audio company. Why is it transforming into a connectivity technology provider?
Harman has been around for 70 years and knows the secret to long-term success is the ability to evolve and re-invent. Innovation is part of the company's DNA.
Another common thread is connectivity in technological innovation across all our businesses. This means in the home, in the car and in enterprise.
A company with scale can innovate with the latest technology at a lower price.
What is your view on the latest connectivity technology and artificial intelligence?
The technology involved in virtual reality and augmented reality is not new. But it was not ready for commercial application, particularly in the automotive market. Now Harman is able to bring these solutions to automakers.
For example, our augmented reality solution enables drivers to receive tips on navigation or warnings of road conditions ahead on a display screen. (We combine this with) "contextual" navigational prompts, such as an arrow telling you to turn left.
This would be overlaid directly on to a live camera view of the road ahead, so you would be able to see exactly which street you would need to turn at. Again, this can be combined with other technologies like head-up displays or prompts projected on to the windscreen.
It is a much safer option because the driver does not have to take his, or her, eyes off the road. Yet he or she can still get realistic navigational prompts.
Of course, solutions such as these require connectivity technologies. Certainly, automated driving is not possible without high-speed connectivity. So Harman and Samsung are very focused in addressing these areas.
We will be the world leader in bringing these solutions to the market.
Harman has a wide range of brands, so what is your management strategy?
Consumers want different products that meet the demands of various scenarios in cars, at home and using phones. Young consumers might start off buying Harman entry-level products.
But when their wealth accumulates, they will buy premium products from a Harman brand.
Our multibrand strategy has been very successful because we can fulfill the needs of customers at every price point and with labels that appeal to different segments of the market.
The company appears to be expanding into more affordable markets. What are the reasons behind that move?
Harman made a decision 10 years ago that the company would be very good at delivering technology in luxury cars. But for the company to grow, the luxury segment is not enough.
Accelerated growth will come from the mid and entry markets. China is a great example of that with companies like Guangzhou Automotive, Shanghai Automotive Industry Corporation (SAIC), BYD, BMW Brilliance (BMW JV), Dongfeng and Chery. We are partners with all of them.
Because our technology platforms are scalable, we can offer automakers a range of solutions that meet the needs of entry segment cars all the way to the most feature-rich.
An automaker can grow its business along with us.
We are ubiquitous and supply not only Western automakers but also Chinese customers. This reflects our ability to be competitive and to scale our solutions.
How has Harman adapted to the trend that China and the global market are becoming integrated?
We are an innovative company. We have global R&D in the country and it is not just for China, but for the whole world. We are serving global customers from China such as BMW, Mercedes-Benz and others.
We also develop our staff here by placing them abroad. Other members of staff come to China from other parts of our business. Regardless of where our people sit, we always have one philosophy.
Quite simply, all our best technologies, whether developed in China or elsewhere, are offered to all our customers. This has been a big part of our success worldwide from China.
How do you strike a balance between life and work?
I don't think work and life balance is the same for everyone. For people like us, our spouse, our family has to be very understanding because our job, our responsibility, comes first.
If we always say, "I'm going to be home every evening at 5 pm," it does not work.
I am traveling at weekends, and sometimes for weeks, so I am fortunate to have a very strong partner at home who understands that.
My wife has lived with me in six countries. Work and life balance is good when you have a family that is understanding.
What is your fundamental business philosophy?
You have to have a business with a purpose. Purpose could be humanitarian. It could also be to address shareholder needs or improve technology. I think good companies have a combination of those elements.
One "purpose" for us is to be a good citizen in all of the communities we serve. If it is all about just growing your business, it will hit a roadblock.
CV
Dinesh Paliwal
Age: 60
Nationality: United States
Career:
2017: President and CEO of Harman International Industries Inc
Before 2008: President of ABB Group, president for ABB global automation division and board member of Bristol-Myers Squibb and Raytheon
Education:
Master's degree in engineering from the Indian Institute of Technology (IIT Roorkee). Master's in applied science and engineering and an MBA from Miami University of Ohio
Family:
Married with two children
Hobbies:
Baseball, tennis, travel and classical Indian music