Samsung unveils intelligent assistant 'Bixby'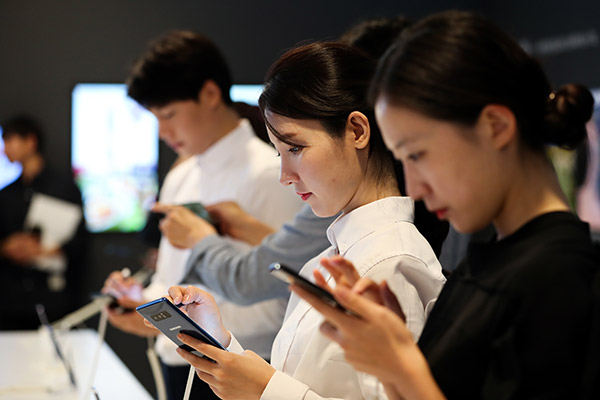 Attendees try out Samsung Electronics Co's Galaxy Note 8 smartphones during a media event in Seoul, South Korea. [Photo/Agencies]
Samsung Electronics Co Ltd has launched a Chinese version of its artificial intelligence assistant Bixby, as the smartphone manufacturer steps up localization efforts and applies more AI technologies into its smartphones amid mounting competition from local rivals.
"China is one of our most important strategic markets and we aim to provide Chinese consumers with the most innovative mobile experience. Artificial intelligence has become the new growth point pushing China's development, so we hope to launch AI-enabled smartphones and products," said Kwon Gyehyun, president of Samsung Electronics China operations.
Kwon said the major competition in the smartphone industry now focuses on thickness, appearance and design of handsets, but not on technology, adding that there are bottlenecks and limits on the hardware sector, and that technical innovation is of great significance.
Samsung's Bixby can respond to spoken commands, allowing users to control their phones with their voices alone. However, it is not an ordinary voice assist-ant, but rather an intuitive and comprehensive interface that leverages contextual awareness to learn users' habits and respond accordingly, according to Samsung.
Samsung's Galaxy S8 series and Note 8 will be available for Bixby's Chinese version beginning next Thursday. The company will launch Bixby 2.0 version and strengthen the application of augmented reality in the Chinese market next year.
Samsung has also cooperated with video-streaming site iQiyi.com, Sina Weibo, China's Twitter-like app and bike-sharing company Mobike, enabling Bixby users to control these apps with their voices.
Bixby will go up against Apple Inc's Siri and Google Assistant. However, Samsung claims that it offers a "deeper experience" than other voice agents or assistants in the market.
Moreover, Bixby will not be only used in smartphones, but also in tablets, televisions and refrigerators.
Other smartphone manufacturers have ramped up efforts to apply AI in their smartphones. Huawei Technologies Co Ltd's latest Mate 10 smartphone models utilize the company's Kirin 970 chipsets and provide artificial intelligence capabilities to improve performance.
The AI chipset enables the handset's cameras to identify 13 types of object, such as people and plants, when being photographed, and to adjust settings such as correction filters in accordance with the surrounding environment.
Huawei is also pushing built-in AI that is capable of learning a user's habits, so that the phone can predict when you want to launch an app or perform an action, thereby speeding it up.
"It is still difficult for Samsung to forge a rebound in China just by virtue of its AI assistant," said Roger Sheng, research director at consultancy Gartner Inc. "What it should do is to launch high-quality smartphones and put more strength on marketing."