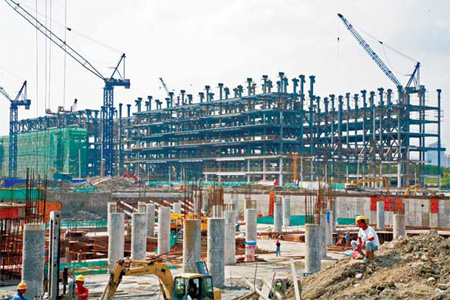 Workers prepare the future site of the China Pavilion for the 2010 Shanghai World Expo. Dassault Systemes will create the first online 'virtual' expo to create an even wider audience for the upcoming event. Bloomberg News
When Christian Nardin, president of Dassault Systemes Asia, participated at the French Pavilion during Japan's 2005 World Expo, he realized that his company's 3D technology could be applied a new way at the next expo in China.
"A question popped up in my mind: What kind of technology can help a world expo break through the limitations of time and physical space? The answer is 3D technology," Nardin said.
The French IT company, a leader in 3D technology applications, signed an agreement with the planning bureau for the 2010 Shanghai World Expo to create the first "online expo" in the fair's 158-year history.
"With the help of 3DVIA virtual technology, World Expo Shanghai Online will be accessible anytime to anyone, providing virtual visitors with 3D lifelike experiences, real-time interaction and a global platform to allow everyone's online presence at the Expo," Nardin said.
Using Dassault Systemes' 3DVIA technology, in conjunction with Web3D and multimedia technologies, Expo Online will build a virtual park of the actual 5.28 sq km World Expo site.
Hundreds of virtual pavilions will allow online visitors to "travel" from one pavilion to another with a click of a computer mouse, he said.
"Virtual visitors can participate in all kinds of 3D interactive activities and watch online broadcasts of events from the physical Expo at any time," Nardin said.
Expo Shanghai Online will also create a "City of the Future" feature, which will allow website visitors from any location to work together to build a virtual metropolis.
Nardin said Expo Shanghai Online is expected to attract more than 100 million viewers. The online attraction will become permanent as a showcase for future generations, he added.
"Expo Shanghai Online is a revolutionary creation. It is not a simple copy of the physical Expo, but an introductory channel, extension and supplement to the Expo," said Wang Liping, CEO of the Expo Website Management Office.
"Through the 3D lifelike experience, we are able to comprehensively present World Expo," Wang said.
Expo 2.0
Next year's Expo, which begins in May, will last five months.
The event is expected to attract more than 200 participants and 70 million visitors.
"As a host of the 2010 Shanghai World Expo, our responsibility is to extend its innovative spirit to every corner of the world," Wang said.
"Thanks to the diversity, interactivity and the broad reach of the Internet in the era of Web 2.0, in conjunction with Dassault Systemes' 3D lifelike experience technology, Expo Shanghai Online will attract more people to participate in this special event," Wang said.
Dassault Systemes CEO Bernard Charles said world expos have long "provided a platform for dreamers and innovators" to showcase new ideas and inventions.
"Dassault is committed to creating an unprecedented platform allowing everyone to express his or her imagination," Charles said.
"With advanced 3D technology and the collective intelligence of online communities, we can translate virtual dreams into physical reality to make our world a better one," Charles said.
The company and world expo administrators will introduce a test version of Expo Shanghai Online in coming months.
3D technology's reach
Nardin of Dassault Systemes Asia said the same 3D technology that will be a focus of Expo Shanghai Online already is in use in city planning and simulation-based training, advertising and marketing platforms.
Dozens of industries from aerospace to construction make use of 3D technology, he said.
"3D technology also provides a new way for people to experience a product before it comes to market, and even before it is actually produced," Nardin added.
Moreover, through precise design, simulation and manufacturing of a product in the virtual world prior to its actual production, material wastes and energy consumption can be significantly reduced, he said.
This can lead to lower costs and shorter production times, as well as a greener production cycle, he said.
Green power
"Brain power is the cleanest resource in the world," Nardin said.
Nardin said 3D-based technologies that simulated planning were behind construction of the 2008 Beijing Olympics stadium and Shanghai World Financial Center, the world's tallest building.
"When designing and researching the anti-earthquake solution for the Shanghai World Financial Center, the simulation allowed us to test it without having to wait for a real earthquake," he said.
Nardin said 3D technology will be used for more applications in China during the next decade.
"A very simple reason is that the rapid development of the economy makes anything possible here," he said.
Dassault Systemes has established a strong foothold in China in recent years, Nardin said.
"We are confident about our future in China, especially as China changes from a manufacturing center to a center for innovation," Nardin said.
(China Daily 07/27/2009 page3)