McKinsey: Digitalization powers up China's economy and global competitiveness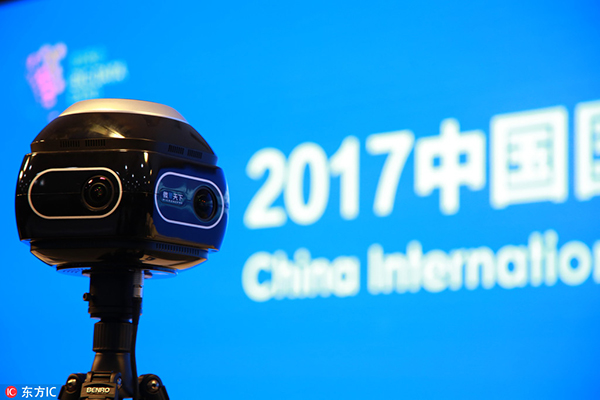 A robot is displayed at a news conference in Beijing, March 30, 2017. [Photo/IC]
China has taken the lead worldwide in digital technologies, which are set to transform and create 10 to 45 percent of industry revenues by 2030, according to the latest report released by the think tank McKinsey Global Institute (MGI).
The report, titled Digital China Powering the Economy to Global Competitiveness, said China accounted for less than 1 percent of the global retail e-commerce transaction values in 2005 and the share is now 42.4 percent. The current value of China's e-commerce transactions is estimated to exceed France, Germany, Japan, the United Kingdom and the United States combined.
Mobile payment penetration rate has increased from 25 percent in 2013 to 68 percent in 2016. Individual consumption via mobile payments totaled $790 billion in 2016, 11 times that of the US.
China's venture capital industry is also focused on the digital world. The majority of investments are in digital technologies such as big data, artificial intelligence and financial technology companies. In particular, China enters the top three in the world for venture capital investments in virtual reality, autonomous vehicles, robotics and drones, according to the report.
The gap between Chinese industries and more advanced economies on digitization is rapidly closing, and China is in fact ranked higher in some sectors on the MGI Industry Digitization Index, such as retail trade, entertainment and recreation, utilities, health care, government and education.
In entertainment, digital channels sold more than 50 percent of the event tickets in China in 2016. In utilities, China was already the world's largest market for smart grid investments in 2013.
Three essential factors are suggested in the report to contribute to China's huge potential in the digital economy.
The first is the massive number of young internet users enabling the rapid commercialization of digital business models.
Another factor is that three of China's internet giants - Baidu Inc, Alibaba Group Holding and Tencent Holdings, or BAT - are building a digital ecosystem with benefits beyond them. One in five top Chinese startups was founded by BAT employees or former BAT employees, according to the report.
Third, the government, which is also an investor and consumer of digital technology, provides enough space for digital players to explore.
Hu Xinyi contributed to the story.