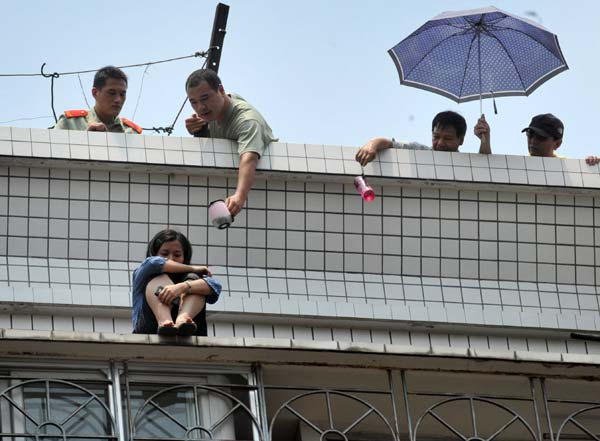 A young woman sits on the ledge of a high building in Fuzhou, capital of Fujian province. She had threatened to commit suicide, but was dissuaded. Mao Chaoqing / for China Daily
Suicide is becoming a serious problem in China, but nonprofit organizations are increasingly offering solace to desperate people, as Wang Hongyi reports from Shanghai.
Unlike casual Web surfers who browse for information or fun, Qingsong Xiaomiao (her web nickname) carefully checks the latest posts from her circle of online friends, looking for indications that any of them is potentially suicidal.
The 21-year-old, who declined to give her real name, is severely depressed as a result of a "huge psychological trauma", which she is unwilling to talk about. The problem has caused her so much pain that she has attempted to end her life nine times.
She spoke to China Daily during the runup to World Suicide Prevention Day, an annual event aimed at raising awareness, which fell on Sept 10.
Depression can increase the likelihood of a suicide attempt by a factor of 20, according to studies by the China Center for Disease Control and Prevention.
During Qingsong's latest suicide attempt, in April, she was saved by a 24-hour suicide hotline in Shanghai.
"When we received her call, we discovered that she was in an extremely dangerous condition, so we started a series of emergency efforts and tried to comfort her," said Kong Yilan, a volunteer at the Life Crisis Intervention hotline, Shanghai's first 24-hour suicide hotline.
Qingsong, who lives in Liaoning province, receives regular counseling and is in constant contact with a wide circle of "friends", many of whom have attempted suicide
"I know them quite well. I can fully understand the psychological conditions of suicidal people, because I am just like them," she said. "My personal experiences can help me distinguish the hidden meanings in the simple, disordered words they post online."
She has close connections with five of those people online, who all live in different cities. If Qingsong thinks she has spotted something untoward, she contacts them immediately.
Sources from the hotline said people such as Qingsong comprise one of most vulnerable groups, those who are young and highly stressed.
The hotline was launched by a nonprofit organization, The Life Education and Crisis Intervention Center, at the end of last year. Unlike similar hotlines in the city, it offers its services late at night and early in the morning, the peak times for people to reach out for comfort.