Railway bridge to Russia ready by end of 2016
By Zhao Lei ( China Daily )
Updated: 2015-04-20 10:00:57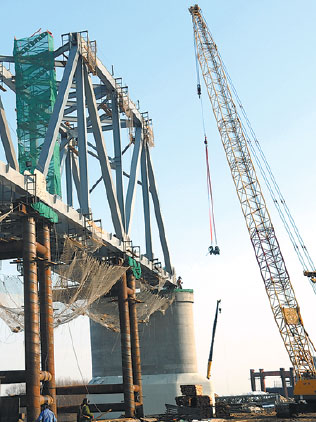 The Tongjiang-Nizhneleninskoye Railway Bridge, which will link China and Russia, is under construction. Shao Guoliang / for China Daily
The Chinese section of a cross-river railway bridge linking the country with Russia will be completed by the end of this year, according to project managers.
"Construction for the Tongjiang-Nizhneleninskoye Railway Bridge's main body will be finished before the end of this year. We will start building its auxiliary facilities next year," said Lin Yonghan, a project manager at the China Railway Major Bridge Engineering Group. "More than 700 workers are racing against time in two shifts to meet the project's timetable."
Meanwhile, Russian Prime Minister Dmitry Medvedev has asked Russia's transportation authority to begin construction work on the bridge's Russian section before May, China News Service quoted Russian media as reporting.
Designed to have an annual cargo capacity of 21 million metric tons, the bridge, which crosses the Heilongjiang River, known as the Amur River in Russia, will connect Tongjiang city in Heilongjiang province with Nizhneleninskoye in Russia's Jewish Autonomous Oblast.
The bridge will create a new link between China's railway network and Russia's Trans-Siberian Railway, boosting trade, transportation and tourism, the Heilongjiang provincial government said in a statement.
The bridge will be 2,215 meters long, with 1,900 meters in China. It will allow a maximum train speed of 100 km/h, according to the project plan.
Construction of the Chinese section started in February last year. China plans to invest 2.64 billion yuan ($426 million) in the project, which is due to be completed in 2016.
Bulk cargo transportation between China and Russia via the border river currently relies mainly on shipping, but is often affected by bad weather and delays when the river freezes, according to customs officials in Tongjiang.
Imports and exports between Heilongjiang and Russia last year accounted for 24.4 percent of Sino-Russian trade.
The province's investment in Russia was $1 billion last year, accounting for more than 30 percent of China's investment there.
Zhou Huiying in Harbin contributed to this story.
zhaolei@chinadaily.com.cn

We will not give up search, Li vows
International hunt for missing airliner continues after fruitless six-day search