S. African xenophobia violence abating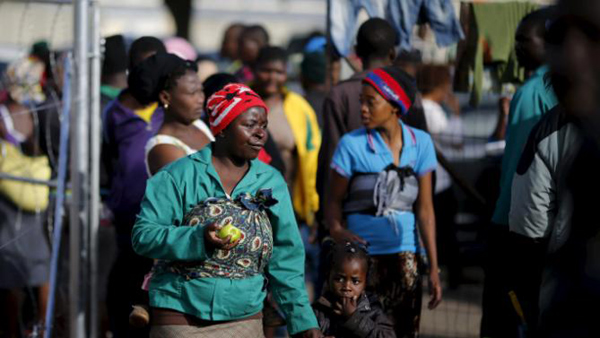 Foreign national immigrants displaced by anti-foreigner violence arrive at a temporary refugee camp in Primrose outside Johannesburg, April 18, 2015. [Photo/Agencies]
JOHANNESBURG - Xenophobia violence sweeping parts of South African seemed to die down on Sunday.
The situation in violence-ravaged areas in Durban and Johannesburg was relatively calm, with no reports of apparent looting and clashes.
But police said they continued to monitor the situation to prevent any possible recurrence of violence.
Earlier, Home Affairs Minister Malusi Gigaba gave the assurance that xenophobic attacks have been contained.
On Saturday, Gigaba accompanied President Jacob Zuma on a visit to a camp housing more than 1,000 displaced foreigners affected in the violence in Chatsworth, Durban.
Gigaba said law enforcement agencies should prevent attacks in various areas.
As a preventive measure, 350 troops of the South African Police Service (SAPS) have been deployed to South Africa's borders, according to Gigaba.
Despite the SA government's pledge to ensure the safety of foreigners, some African countries are preparing to repatriate their citizens back home.
Zimbabwe on Sunda began repatriating more than 1,000 citizens who were attacked in the violence in Durban, while the Malawi government has already begun its process of repatriating its citizens.
Mozambique, Kenya and Nigeria are expected to follow suit.
On Saturday, Zuma told displaced foreigners in the Durban camp that foreigners who want to go home are welcomed back after the violence was stopped.
In a related development, Police minister Nathi Nhleko will launch a campaign in Durban on Sunday afternoon to battle the recent wave of xenophobia attacks.
Meanwhile, a peace march, organized by the Methodist Church, will take place in Johannesburg.