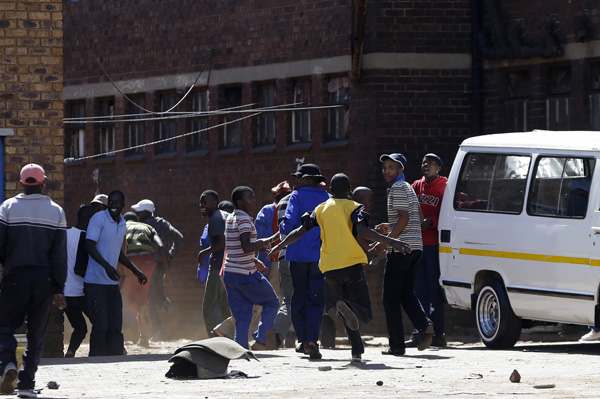 Local residents run away as police fired rubber bullets and teargas to disperse a crowd of anti-immigrant protesters outside a hostel in Actonville, east Johannesburg, South Africa, Thursday, April 16, 2015. Fears of anti-immigrant attacks have escalated sending foreigners seeking refuge in camps and a police station. [Photo/IC]
CAPE TOWN - The South African cabinet on Friday condemned "in the strongest terms" the recent acts of violence against foreign nationals in the country.
"At this point, cabinet would like to extend its heartfelt condolences to the families of those who lost their lives and a speedy recovery to those who are injured," said a cabinet statement issued after a fortnightly cabinet meeting.
No amount of frustration or anger can justify these attacks and looting of shops, the statement said.
Locals attack foreign nationals on the ground that immigrants do illegal business, take up local employment and even commit crimes.
"Whilst noting the issues raised by communities, violence towards another fellow human being can never solve these issues," said the cabinet statement.
"Rather, it reflects badly on us as a people, going against the very ideals and foundations of our democracy."