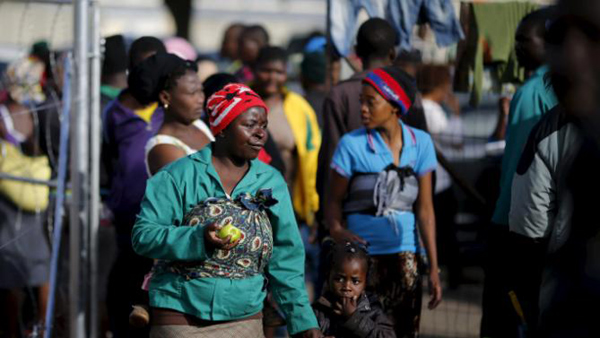 Foreign national immigrants displaced by anti-foreigner violence arrive at a temporary refugee camp in Primrose outside Johannesburg, April 18, 2015. [Photo/Agencies] 
Some African countries are beginning to repatriate their citizens from South Africa after days of violence against foreigners including Chinese in parts of the country, despite President Jacob Zuma's vow to end xenophobic attacks.
Zimbabwe's ambassador to South Africa, Isaac Moyo, said Zimbabwe would on Sunday start repatriating about 1,000 Zimbabweans affected by the attacks in Durban.
The Malawi government has also started its repatriation process.
Kenya said on Thursday it was making frantic efforts to evacuate nationals who are living in South Africa following increased xenophobic attacks.
South Africa's President Jacob Zuma on Saturday cancelled a state visit to Indonesia to deal with a wave of anti-immigrant violence at home that has claimed six lives.
The unrest began in the port city of Durban two weeks ago and spread to Johannesburg, Africa's economic hub.
Johannesburg and Duran are the most hard-hit areas by the latest spate of anti-foreigner violence.
Six people have been killed and hundreds of foreign-owned shops including Chinese owned were looted or damaged.
Relative calm was reported in areas ravaged by violence over the past few days, police said on Saturday.
Although looting was reported in central Johannesburg overnight, the situation in the area seemed to be under control, residents said.
Zuma said on Saturday his country is not driving foreigners away.
"As government, we're not saying to you go away. It is not every South African who is saying go away. It is a very small number of people who say so," he told a group of displaced foreigners at a camp in Chatsworth, Durban.
Zuma promised his country will take measures to stop the violence. A large contingent of heavily-armed police was seen patrolling central Johannesburg where shops remained closed and streets scattered with burned tires and rocks.
"Those who want to go home, when the violence stops you are welcome to return," he said, addressing immigrants who planned to board buses provided by their governments to take them back to their countries.
Frequent outbreaks of anti-immigrant violence have been blamed on high unemployment, officially around 25 percent -- although economists say in reality much higher -- widespread poverty and glaring income disparities.
About 60 people died in a similar unrest in South Africa in 2008. In January this year, four people died during a week of looting of foreign-owned shops and other violence in Soweto and other areas of Johannesburg.
The latest wave of unrest began after Zulu King Goodwill Zwelithini was quoted by local media as saying that foreigners should leave South Africa. He has since said his comments were misinterpreted and has urged residents to be calm.