Free land to boost Chinese population in Russia's Far East
( chinadaily.com.cn )
Updated: 2015-01-27 13:11:07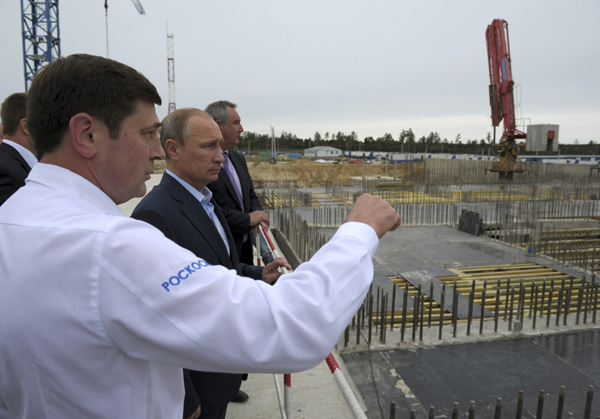 Russian President Vladimir Putin (2nd L) visits the construction site at Vostochny Cosmodrome in the Amur Region, Sept 2, 2014. [Photo/Agencies]
Russia's Far East is expected to see an increase in the number of Chinese immigrants after a program that offers the residents of the region a free hectare of land to start a farm or other business gets green light.
Russian President Vladimir Putin supported the plan, which is expected to roll out sometime this year, in a meeting with Russian Deputy Prime Minister Yury Trutnev on January 19. Trutnev, the representative of the Far East,  said such a step would increase migration to the vast and sparsely populated region.
The remote region would be the main exporter of green food to China if the program pans out, said an expert. The population of Chinese immigrants in the area is likely to increase as they could lease land from local residents, which would also benefit the local budget.
The government owns vast tracts of under-used territory across Russia, and the scheme would draw from the 614 million hectares of state-owned land in the Far East, according to the plan's author, Trutnev.
The land could be used for "agriculture, business development, forestry or hunting", he said.
However, the land will not be for resale to foreign citizens, an important consideration in the Far East, where Chinese, Japanese and South Korean companies are gradually making progress. China in particular is betting big on the region - the China Development Bank has confirmed its plans to invest $5 billion into infrastructure projects there.
Russian law currently allows foreigners to own land not zoned for agricultural purposes, provided that land does not border a foreign country.
Land giveaways are well-worn concept in Russia, the world's largest country. The Soviet Union's 1950s "Virgin Lands" campaign saw hundreds of thousands of young citizens volunteer to move to Siberia and Kazakhstan to farm the land.

We will not give up search, Li vows
International hunt for missing airliner continues after fruitless six-day search