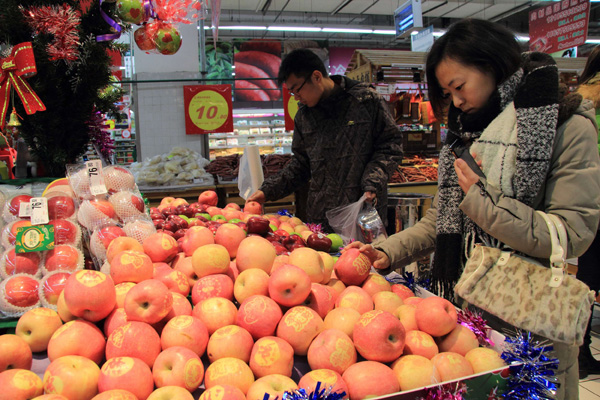 People buy apples in a supermarket in Shaoxing, East China's Zhejiang province, Dec 17, 2014. [Asianewsphoto by Li Ruichang]
WASHINGTON - China has reached an agreement with the United States to allow all US grown apples to enter Chinese market, announced the US Department of Agriculture (USDA) Monday.
"USDA values the relationship we are forging with China to bring mutually-beneficial food and agricultural trade to Americans and Chinese alike," said Agriculture Secretary Tom Vilsack in a statement, adding the agreement will give a "significant boost in sales for American apple producers."
The USDA reached the agreement with China's General Administration of Quality Supervision, Inspection and Quarantine ( AQSIQ) in San Francisco, California, this weekend, according to the USDA source. With this new agreement, the apple industry estimates that within two years, exports to China will reach a value of nearly $100 million per year, said the USDA.
China and the United States have been making efforts to normalize China-US apple trade since Chinese government suspended imports of red and golden delicious apples from the US state of Washington in 2012 as the above two kinds of apple are repeatedly intercepted with three apple pests.
Last October, China lifted the suspension on apples from the Washington state, as USDA and the US apple industry agreed to take additional measures to safeguard apples from diseases caused by the pests.
The USDA said the past six years have been the strongest in history for agricultural trade, with US agricultural product exports totaling $771.7 since 2009, and apple exports reached more than $1 billion in 2013.