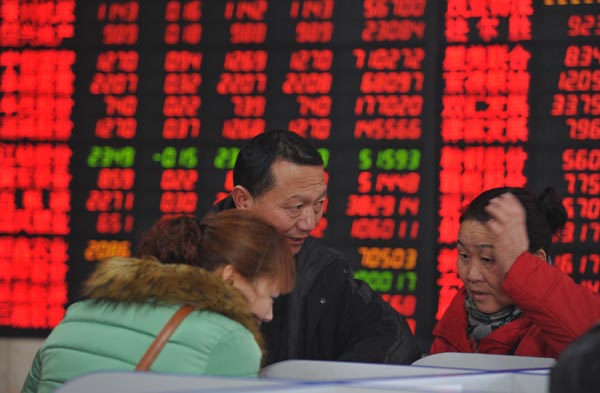 Investors at a brokerage in Fuyang, Anhui province. Brokerages began taking applications to open equity options trading accounts on Monday. [Photo/China Daily]
Applicants need hefty cash reserves and have to pass exams before being able to trade
Brokerages in the Chinese mainland began taking applications to open equity options trading accounts on Monday, with investors looking for a new way to hedge risk, analysts said.
But there will not be many eligible users initially, said Vincent Zhao, a senior official with a State-owned brokerage based in Shanghai. Applicants must have at least 500,000 yuan ($80,645) in cash and shares in a single trading account and pass three exams before they can trade stock options.
Options give holders the right-but not the obligation-to buy or sell the underlying asset at a specified price at a specific time. Options allow investors to hedge their investments, but they may also expose speculators to heavy losses.
Media reports said options turnover has reached a level similar to that of futures in recent years in terms of trade conducted on global exchanges.
The China Securities Regulatory Commission will allow investors to trade only options that track the Shanghai Stock Exchange 50 index exchange-traded funds. Trading will start on Feb 9. The index is composed of the 50 biggest and most representative companies listed on the bourse.
Industry sources said that trading in options for individual shares might start one or two years later, as authorities are trying to avoid market volatility.
"The launch of the stock options will prompt diversification of financial products. Absolute return and quantitative hedging strategies will expand further, which will promote the development of asset management products and allow further diversification of financial products," said Ren Jianchang, managing director of Taikang AMC, based in Beijing.
Shanghai Securities said in a note: "The newly launched stock options business will expand the business scope of securities firms, which breaks down the barriers between securities firms and futures firms. The business will increase brokerages' revenue by 10 to 20 percent as it matures."
Analysts said that because the SSE 5O ETF options will be traded initially, investors are likely to raise their holdings of SSE50 heavyweights such as top oil producer PetroChina Co Ltd and the biggest lender, the Industrial and Commercial Bank of China Ltd.
New allocations to blue chips will help to lift valuations. Components of the SSE50 index have an average price-earnings ratio of 10 times, compared with 17 times for the broader market.
The capitalization of China's A-share market has become the second-largest in the world after the United States, but China has a far simpler product structure.
Stock options will diversify investment channels, improve the functioning of the market and attract a variety of investors, said Yang Chaojun, a professor at Shanghai Jiaotong University.
Reuters contributed to this story.