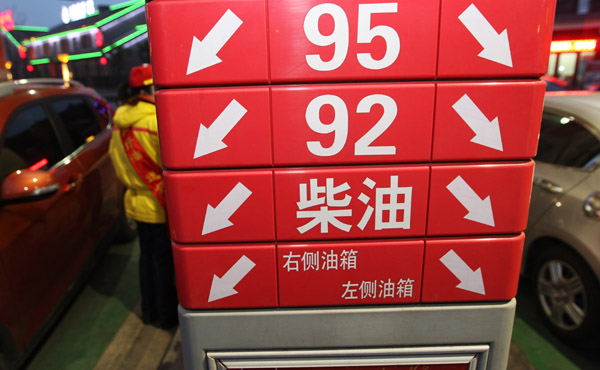 A woman refules vehicle in a petrol station in Nantong, Jiangsu province, Jan 26, 2015. [Asianewsphoto by Xu Congjun]
BEIJING - Retail price of gasoline will be reduced by 365 yuan ($60) per ton and diesel by 350 yuan per ton, the 13th price slash since July, China's top economic planner announced on Monday.
The adjustment, which will come into effect on Tuesday, means retail prices will drop by 0.27 yuan per liter for gas and 0.3 yuan per liter for diesel, according to the National Development and Reform Commission.
China's domestic fuel prices are reduced when international crude prices change by more than 50 yuan per ton within a 10 working day period.
The latest price slump in the global market, sparked by a supply glut and sluggish demand, is expected to stay for a while, which is positive news to China, where some 58 percent of oil consumption comes from overseas supplies.
According to data from the General Administration of Customs, China imported 308.4 million tons of crude oil in 2014 worth $228.3 billion.
UBS chief China economist Wang Tao said China should benefit from lower oil prices, but any gains will be on a more micro than macro scale.
"We estimate that if oil prices stayed at their current low level through this year, CPI inflation could potentially be 0.3-0.4 percent lower and GDP growth 0.2-0.3 percent higher," Wang said in a research note.
Wu Yuetao, a researcher from government think tank China Center for International Economic Exchanges, said China should capitalize on this rare opportunity to push ahead energy pricing reforms.
China has sometimes intentionally kept prices of oil and gas lower than those on the international markets for the sake of economic development and consumers' buying power. However, given the severe energy outlook, the government has decided to let the market play a more important role in guiding consumers in their fuel use.
Chinese authorities have reiterated their pledge to promote reforms in the energy and resource pricing system, but progress has been slow for fear of public complaints and broader economic implications.
Dragged down by a housing slowdown, softening domestic demand and unsteady exports, China's economy grew 7.4 percent in 2014, the weakest annual expansion in 24 years.