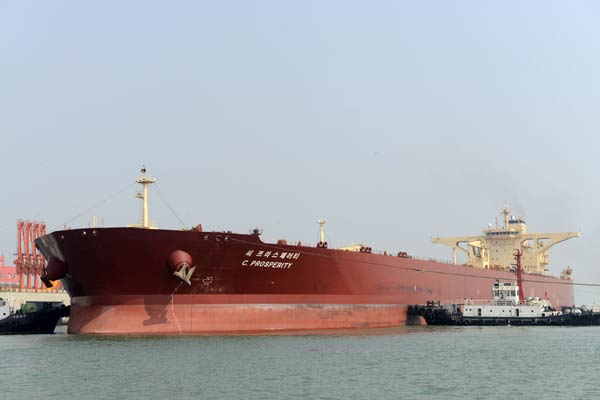 A super large Panamanian oil tanker docks at a wharf in Rizhao, Shandong province. China imported 308.38 million metric tons of crude from the global market in 2014, up 9.5 percent from a year earlier. [CHEN WEIFENG/FOR CHINA DAILY]
Crude oil imports surged to their highest level in December as China purchased record quantities from its trading partners, cashing in on the rapidly falling prices in the global market.
The country's crude oil imports rose 13 percent to 30.37 million metric tons in December, the highest growth rate during the year, while refined oil imports reached 3.2 million metric tons, according to data released by the General Administration of Customs on Friday.
Jing Yongping, a professor who specializes in energy and commodity trade at the Beijing Institute of PetroChemical Technology, said the global oil price slump caused by the continued exploitation of shale oil and gas in the United States, political conflict between Russia and Ukraine, and fluctuation in global commodity prices were the main factors that prompted China to increase its oil imports last month.
China's crude imports from Iran, its main import source, rose 19 percent year-on-year in December to 2.57 million metric tons. Jing said crude imports from Saudi Arabia, Russia, Venezuela and Angola rose by 40 percent to 70 percent, on a year-on-year basis last year.
China imported 308.38 million metric tons of crude from the global market in 2014, up 9.5 percent from a year earlier. That is about 665,000 barrels a day, even as import prices fell 7 percent compared with 2013.
Fuel oil prices dropped to $471 per metric ton in December, about 30 percent lower than the average price charged in 2014. China's import volume jumped 53.5 percent on a year-on-year basis to 1.9 million metric tons in December, another high growth rate for the whole year.
Zhao Zhongxiu, a trade professor at the University of International Business and Economics in Beijing said: "China's ability to provide for its own needs is limited by the fact that its proven oil reserves are small in relation to its consumption."
Zhao said China's oil imports are expected to clock a year-on-year growth rate of about 5 percent this year, with the proportion of imported oil likely to reach 58 percent this year.
According to a report published by the Beijing-based Chinese Academy of Social Sciences in November, imports will account for about 64.5 percent of China's total oil consumption by 2020, aided by the huge gap between domestic consumption and production.
Statistics from CASS showed that China's oil production is expected to reach 182 to 200 million tons in 2015. The country's oil production will see a gradual decline after 2020, according to CASS.
However, China's imports of other major commodities such as corn and wheat dropped by 20 and 46 percent to 2.6 million metric tons and 3 million metric tons respectively in 2014, a sign that the market has been bolstered by higher domestic grain output and abundant reserves.