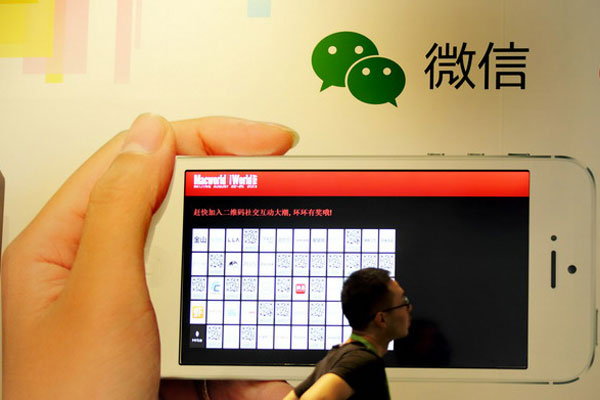 WeChat, now China's biggest instant messaging platform, is expanding its horizons and has become a primary e-commerce platform in its own right. [Provided to China Daily]
WeChat, the online messaging application that has about 468 million monthly active users, kicked off an advertising program on Sunday with three advertisers debuting on its content sharing platform.
Advertisements for Coca-Cola Co, BMW China, and Chinese smartphone maker Vivo Communication Technology Co Ltd were shown on Sunday night in the Moments timeline of WeChat, the social networking app owned by Shenzhen-based Internet giant Tencent Holdings Ltd.
The advertisements look like Facebook's News Feed and users are given the right to opt out of the advertisements if they are not interested.
The company said "a rather intelligent technology" is used to push the ads to their targeted audience or in other words, different WeChat users can receive different advertisements.
The advertising program marked a major step in WeChat's commercialization. The app, which was launched in January 2011, has established itself as a super gateway connecting its giant group of users with other third-party services, such as online shopping and taxi hailing.
However, it did not make money in such a straightforward way, until the debut of the advertising program.
WeChat said that for some users advertisements can provide valuable information. WeChat wants to help users get information that they find interesting and valuable so as to achieve synergy between advertisers and users.
"Which advertisements did you receive" became a much discussed topic on Sunday night. Not every WeChat user received advertisements and those who did only got one.
WeChat did not disclose the mathematics behind the advertisements. But as a social platform, WeChat is able to target specific demographics such as gender, age and location, via big data technology.
"It can easily categorize people and find the most suitable audience for advertisers," said Dong Xu, a senior analyst with Analysys International.
Dong said that many social networking platforms have launched advertising programs because they know exactly what you like and what you don't like.
"However, it is still too early to say whether or not WeChat advertising will be successful. If the idea is mishandled, its users will leave the system and they will face the risk of having destroyed the entire WeChat ecosystem," she said.
Nevertheless, the magic of big data technology has attracted a lot of advertisers.
The public relations office of BMW Brilliance Automotive said on Monday that big data marketing has emerged as a new trend due to its advantages in social networking, interaction and accuracy.
It said the company's first attempt on WeChat advertisement performed well, receiving 7 million comments or "likes" in the first 17 hours since the post was put online on 8:45 pm on Sunday. BMW Brilliance Automotive's public account on WeChat had added 200,000 new fans by noon on Monday, said the company.