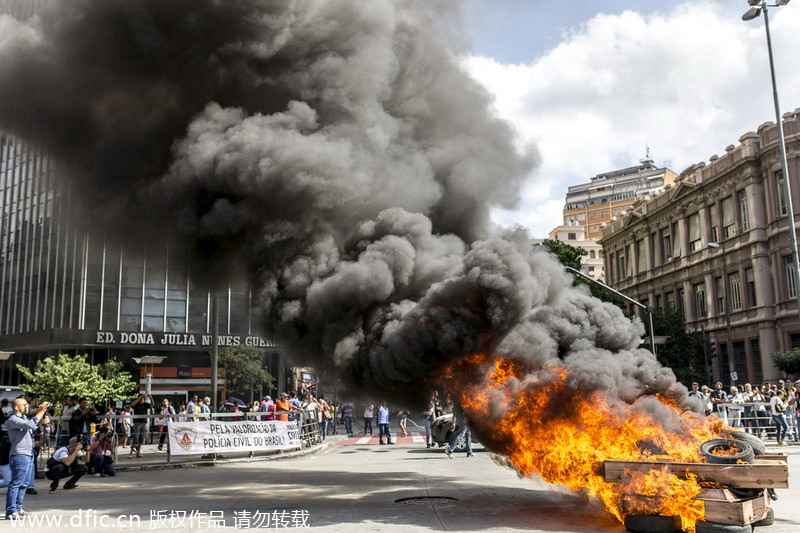 Police officers go on a 24-hour strike in Belo Horizonte, Brazil, May 21, 2014. [Photo/IC]
Police officers went on a 24-hour strike in eight Brazilian states and the capital on Wednesday, demanding better pay and working conditions, raising security concerns less than a month before the opening match of the World Cup.
In addition to pay increases and improved conditions, striking police officers called for a unified salary standard across states and the reform of what their union calls "chaotic" security policies.
Describing the strike as illegal, Justice Minister Jose Eduardo Cardozo urged the strikers to come to the negotiating table. He said that, if necessary, the military would be called upon to maintain law and order.
Thirty percent of the force stayed at work to handle emergencies. In Rio de Janeiro, crime reports from the public were being handled normally, according to Globo News.
But the detectives' 24-hour strike reignited concerns over security preparations for the World Cup in a country that has one of the world's worst crime rates.
Police in eight other states have also joined the movement, though instead of striking they were staging protest marches or holding rallies at police stations, their union said.
In Brasilia, 500 detectives and federal police - the force responsible for border security and immigration services - marched to the justice ministry carrying signs with messages such as: "Without the civilian police there won't be a World Cup!"
Officials responsible for World Cup security have said there are contingency plans in place to deal with any strikes during the tournament.