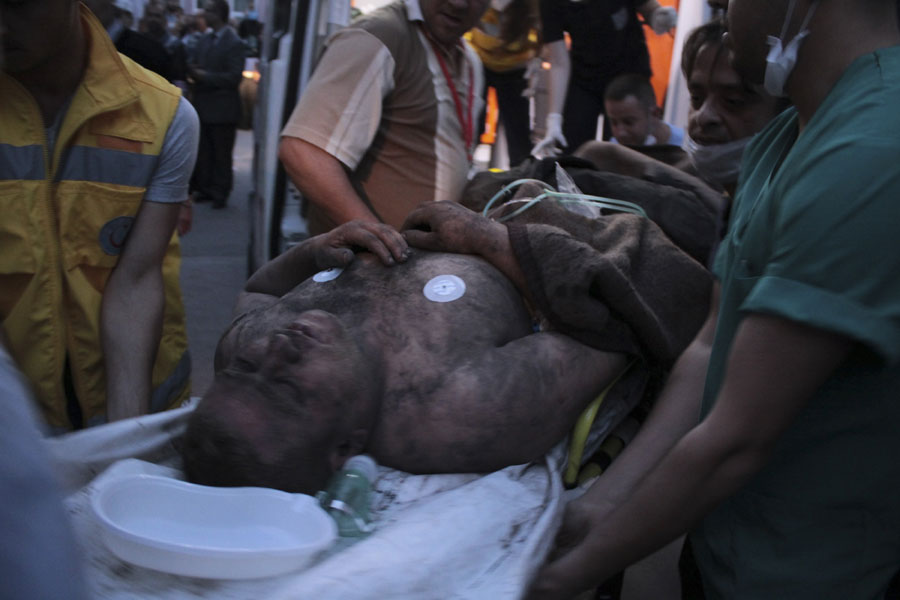 An injured miner is carried into a hospital in Soma, a district in Turkey's western province of Manisa May 13, 2014. [Photo/Agencies]
ISTANBUL-- At least 200 people have been killed and some 400 workers remain trapped underground after an explosion and fire in a coal mine in the western Turkish province of Manisa on Tuesday, local officials said Wednesday.
A total of 787 people were inside the mine in Soma, some 250 km (155 miles) south of Istanbul, when the disaster occurred. 363 people have been accounted for so far, including the miners killed.
At least 80 rescued miners were injured, including four who were in a serious condition, Energy Minister Taner Yildiz said at the scene as he oversaw the rescue operation involving some 400 rescuers.
The accident occurred as the workers were preparing for a shift change, officials said, which likely raised the casualty toll because there were more miners inside than usual.
The explosion occurred at a power distribution unit 2 km below the surface, which caused the mine's elevator stop working. A fire broke out after the explosion.
The Soma Coal Mining Company, the mine's operator, said that they had inspected the mine's facilities only two months ago and found nothing against regulations.
The latest incident is one of the numerous mining accidents that Turkey has had in recent years. Accidents, cave-ins and explosions have claimed the lives of dozens of mine workers yearly.
Last December, four miners, who were reportedly working at an unlicensed coal mine for 60 Turkish Liras (about $30 ), were killed in the Zonguldak province after an accident.
According to the Chamber of Mining Engineers of Turkey, 80 accidents took place in Turkish mines in 2012, killing 61 people and injuring 91 others.
Since 1955, at least 3,053 Turks have been killed and 326,208 others injured in mine accidents across the country.