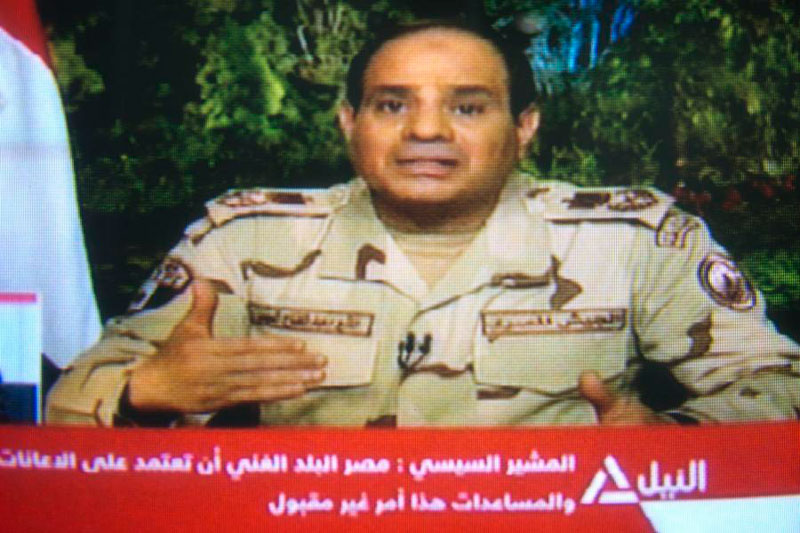 Egypt's military chief Abdel Fattah al-Sisi is seen in a TV screen grab as he announced in a televised statement on Wednesday his candidacy for the forthcoming presidential election. The election comes in the wake of the toppling of former president Mohamed Morsi of the Muslim Brotherhood in July last year. [Photo/Xinhua]
CAIRO - Egypt's military chief Abdel-Fattah al-Sisi announced in a televised statement on Wednesday night his bid for the upcoming presidential elections, which is expected by the public after he toppled the former president in July last year.
"This is the last time to appear before you in the military uniform," Sisi said, adding "I decided to resign from my post as a military chief and defense minister."
"I modestly announce to you my bid to run for the presidential elections," he said, noting that he put on his military uniform for Egypt and took it off for Egypt.
Sisi made the announcement after a lengthy meeting on Wednesday with the Supreme Council of the Armed Forces (SCAF) with the presence of interim President Adli Mansour.
"No one can force Egyptians to elect a president they do not want," Sisi said. He also urged other candidates to run for the presidency, "I would be happy to see the victory of any candidate chosen by the people."
The ex-military chief said that Egypt is facing "weak economy" and "terrorism," stressing that he would not "work out miracles" but vowed to work earnestly for the country's rise and best interests.
"If I am given the honor of ruling the country, I promise you that I will achieve together stability, security and hope for Egypt," Sisi said.
Talking about his presidential campaign, Sisi said he would offer a clear vision for establishing "a democratic and modern state" in the future.
Egypt's newly-established constitution stipulates that only civilians can run for the presidency, which forces Sisi to resign in order to join the race.
In a meeting held late January, the SCAF gave Sisi the green light to run for the presidency in response to popular demands, as Sisi's popularity mounted after he toppled the Muslim Brotherhood- oriented president Mohamed Morsi.
Meanwhile, Mansour promoted Wednesday Army Chief of Staff Lieutenant General Sedki Sobhi to the higher rank of general, which is seen as a prior step to replace Sisi as defense minister.
According to the constitution, the president cannot appoint defense minister without approval of the SCAF.
Ahead of Sisi's announcement, leftist leader Hamdeen Sabahy was the only one who officially announced intention to run for the presidency.