Egyptian govt resigns, paves way for Sisi's presidential bid
Egypt's government has resigned, the prime minister said on Monday, a step likely to pave the way for army chief Field Marshal Abdel Fattah al-Sisi to declare his candidacy for president of a strategic US ally gripped by political strife.
"(The government) made every effort to get Egypt out of the narrow tunnel in terms of security, economic pressures and political confusion," prime minister Hazem el-Beblawi said in a live nationwide speech.
Beblawi, who was tasked by interim President Adly Mansour with running the government's affairs until the election, did not give a clear reason for the decision.
For Sisi to run for president, he would first need to quit as defense minister. "This (government resignation) was done as a step that was needed ahead of Sisi's announcement that he will run for president," an Egyptian official said.
He said the Cabinet resigned en masse as Sisi did not want to appear to be acting alone.
The top military commander has unveiled a political roadmap meant to lead to elections after toppling Islamist president Mohammed Morsi of the Muslim Brotherhood in July following mass protests against his rule.
An Egyptian prosecutor has accused the ousted president of passing state secrets to Iran's Revolutionary Guard, the first such explicit detail in an ongoing espionage trial.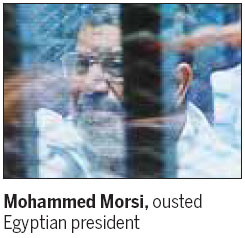 If convicted, Morsi could face capital punishment. He already stands accused of a string of other charges, some of which also carry the death penalty, leveled as part of a crackdown on his Muslim Brotherhood group after the military deposed him last summer.
At Sunday's hearing, part of which was aired on state television, the prosecution accused Morsi and 35 other Brotherhood members of conspiring to destabilize the country and cooperating with foreign militant groups - including Hamas and Lebanon's Hezbollah.
The case's chief prosecutor, Tamer el-Firgani, said Morsi, his aides and senior Brotherhood members had "handed over secrets to foreign countries, among them national defense secrets, and handed over a number of security reports to the Iranian Revolutionary Guard in order to destabilize the country's security and stability".
The statement read in court did not identify the foreign countries.
El-Firgani, divulging details of the charges, said national security reports meant for only Morsi to see were e-mailed to some of these foreign militant groups. One report, he said, was sent to the Iranians about the activities of Shiite Muslims in Egypt. Iran is mostly Shiite.
Morsi started off his time in office with repeated tirades against Iran over its support of Syrian President Bashar al-Assad, but he soon warmed up to the Islamic Republic, allowing its tourists to come to Egypt for the first time in decades and founding a four-nation contact group on the Syrian war that included Iran.
Morsi and his co-defendants were present at the hearing without their defense team, which had walked out of the previous hearing in protest that the defendants were being held in a sound-proof glass cage. Defense lawyers appointed by the bar association were present in their place.
The cage was introduced after Morsi and his co-defendants interrupted the proceedings of other court cases by talking over the judge and chanting slogans. The cage is fitted to give the judge sole control over whether the defendants can be heard or not when speaking.
Reuters-AP-AFP
(China Daily 02/25/2014 page10)
Today's Top News
Editor's picks
Most Viewed