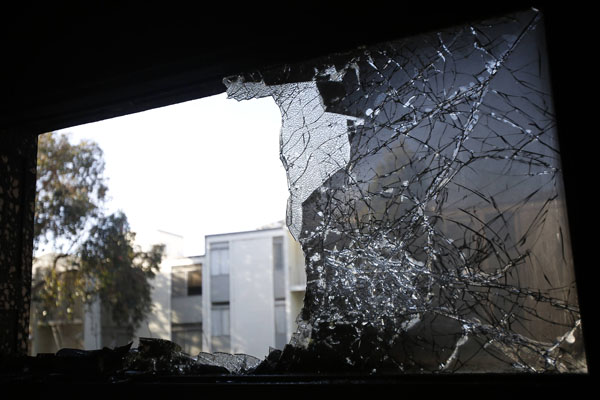 A broken window is seen at the Chinese consulate after an unidentified person set fire to the main gate in San Francisco, California January 2, 2014. The Chinese consulate in San Francisco sustained fire and smoke damage after an arsonist struck it, the consulate said on Thursday, but no injuries were reported. [Photo/Agencies]
SAN FRANCISCO - The FBI says a fire at the Chinese Consulate in San Francisco was not an act of terrorism.
FBI Special Agent David Johnson said Thursday the agency is investigating the blaze as a criminal matter as opposed to a threat to national security.
Johnson did not provide any specifics about a possible motive or suspects.
Authorities say no one was hurt in the fire that charred the building's doorway, damaged the lobby and burned upward toward the roof on Wednesday.
Consulate spokesman Wang Chuan says workers inside saw surveillance camera footage showing a person coming out of a van parked outside the building with two buckets of gasoline, pouring it on the front of the building and setting it on fire.
California Assembly Speaker John Perez called the incident "shameful."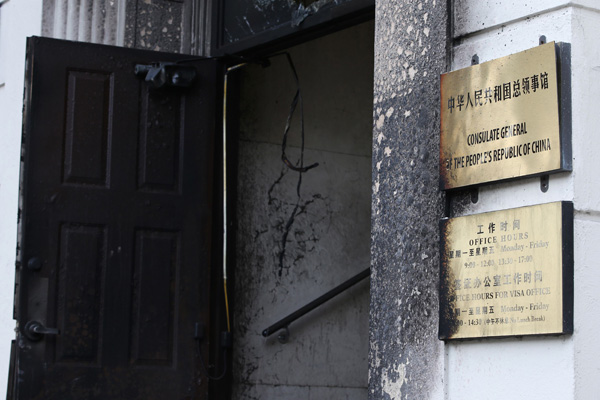 The damaged entrance of the Chinese consulate is seen after an unidentified person set fire to the main gate in San Francisco, California January 2, 2014. [Photo/Agencies]