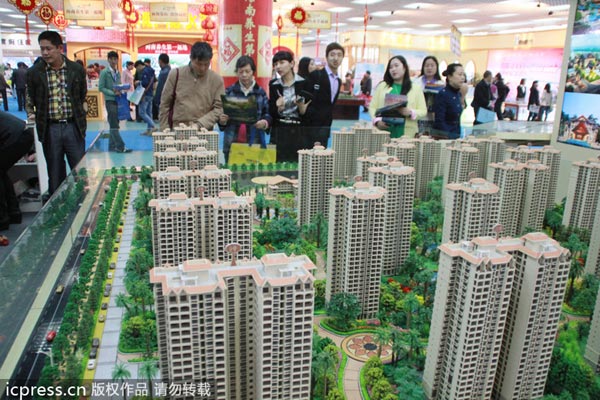 Visitor at a property expo, 01 Jan 2014.[Photo/icpress.cn]
Property prices in China's major cities continued to climb in December, although the pace of growth stabilized.
The average price per square meter in 100 major cities rose 0.7 percent month-on-month to 10,833 yuan ($1,770), the 19th consecutive increase since June 2012, according to the China Index Academy, a Beijing-based real estate research institute.
The month-on-month rise was 0.68 percent in November, the academy said.
Prices rose in 68 cities. There were gains of more than 1 percent in 19 of those cities, compared with 28 cities in November.
On the declining side, 15 out of 32 cities in which prices fell experienced a drop bigger than 1 percent, compared with 10 decreases of that magnitude in the previous month.
The figures "indicate a stabilizing trend", said Huang Yu, deputy head of the China Index Academy. "But price growth will further diverge in different cities."
On a yearly basis, the average home price in the 100 cities monitored rose 11.5 percent last month to 7,158 yuan per sq m.
Prices rose fastest in the top 10 cities, including Beijing and Shanghai, with a year-on-year gain of 17.5 percent to 18,994 yuan per sq m.
Robust sales combined with lower supplies led to the latest gains in key cities, said a report from the China Real Estate Information Corp.
In Beijing, for example, 11 million sq m of floor space was sold in the first 11 months of 2013. The year-earlier figure was 7 million sq m, according to the report. Similar conditions may persist this year, it said.
"The increase in supply and tighter credit will help limit price growth to around 7 to 7.6 percent in 2014, but pressure for big price hikes exists in some key cities, where land prices are high and supply is seriously limited," said Huang.
Prices are likely to be flat this year in second-tier cities such as Wuhan and Chongqing, which have a balanced supply-demand relationship.
But smaller cities with excess supply will see prices drop if credit tightens, Huang added.
Despite growing concern over a bubble in the real estate sector, foreign investors' confidence in the market remains strong.
According to Shen Danyang, spokesman for the Ministry of Commerce, foreign investment is rising in China's property market, although its share remains low.
Some foreign-domestic joint ventures have made the headlines recently.
The fashion and luxury brand Armani Group, for instance, announced a partnership with property developer Chengdu Mind River Land Co Ltd for a luxury residential project in Chengdu.
This will be the first residential development in China designed by Giorgio Armani. The development is scheduled for completion in 2016.
"Foreign investors' interest in China's real estate market has never waned, but they just find it more difficult to find bargain deals in first-tier cities," said Grant Ji, senior director of the investment department at Savills Plc in Beijing.