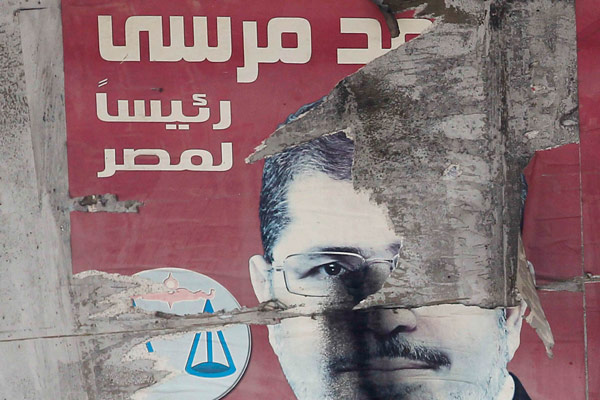 Remnants of a poster of ousted Egyptian President Mohamed Mursi that reads "Yes to Mursi, President for Egypt" is pictured on a wall on a street in Cairo December 2, 2013. [Photo/Agencies]
CAIRO - The Egyptian government officially declared on Wednesday the Muslim Brotherhood, from which ousted Islamist president Mohamed Morsi hails, a "terrorist group," the state TV reported.
Deputy Prime Minister and Minister of Higher Education, Hossam Eissa, said that the Brotherhood organization inside and outside Egypt is declared a terrorist organization.
The move comes one day after a deadly bomb attack in the Nile Delta city of Mansoura that killed at least 16 people and injured 130 others.
Eissa said that terrorism law will be enforced on everyone who participates, finances or propagates the activities of the group and the government will contact other Arab countries which signed an anti-terrorism treaty to inform them of its decision.
The Brotherhood has been practicing violence for a long time, he charged, accusing them of seeking to disturb Egypt's transition to democracy.
Eissa also said that the government has tasked the police and army forces to protect public facilities and universities against the terrorist acts of the group.