UN mission saves resources for refugees in S.Sudan
The UN Mission in South Sudan (UNMISS) on Sunday began the relocation of non-critical staff from Juba, the capital of South Sudan, to the Ugandan city of Entebbe in a bid to save its limited resources for more than 20, 000 civilians who sought refuge in its base.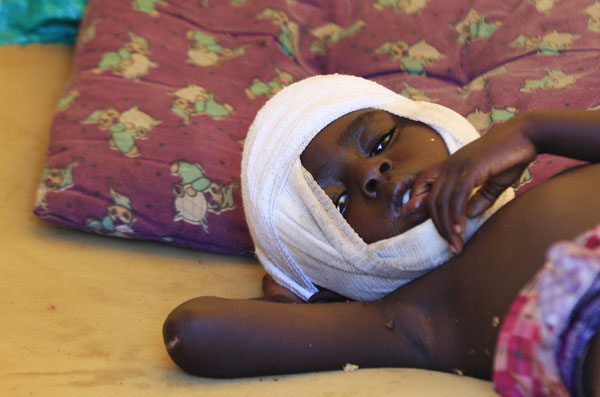 An injured child rests in a tent inside Tomping United Nations base near Juba international airport, where some 12,000 displaced people from the Nuer tribe have sought refuge at, December 24, 2013.[Photo/Agencies]
"The United Nations has taken this decision to relocate staff as a precautionary measure to reduce pressures on its limited resources, while UNMISS continues to provide assistance and shelter to over 20,000 civilians gathered inside its compounds in the South Sudanese national capital," said a statement issued here by UN spokesman Martin Nesirky.
On Saturday, UNMISS relocated all remaining civilian staff from its compound in the Jonglei state capital of Bor to Juba, the statement said.
At the same time, the mission is planning to reinforce its military presence in Bor and Pariang to continue fulfilling its mandate to help protect South Sudanese civilians, said the statement.
"We are not abandoning South Sudan. We are here to stay, and will carry on in our collective resolve to work with and for the people of South Sudan," said the special representative of the UN secretary-general for South Sudan, Hilde F. Johnson. "To anyone who wants to threaten us, attack us or put obstacles in our way, our message remains loud and clear: we will not be intimidated."
"This is the United Nation's youngest member state ... This is not the country that the people of South Sudan dreamed of, this is not the country that they fought for," Haq said. "We're trying to get them to come back to a political solution, to get them to halt this fighting before it spins out of control," said UN spokesman Farhan Hag.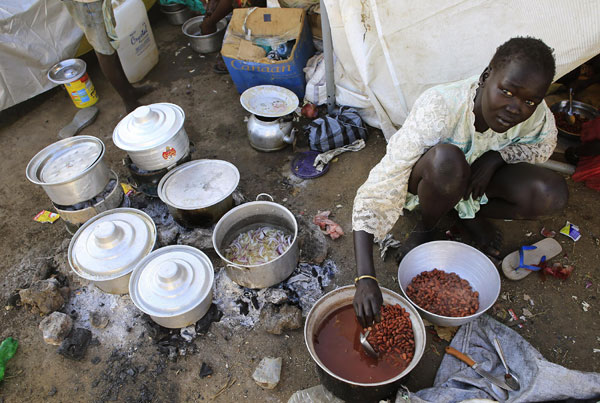 A displaced woman prepares a meal at Tomping United Nations base near Juba international airport, where some 12,000 people from the Nuer tribe have sought refuge at, December 24, 2013.[Photo/Agencies]