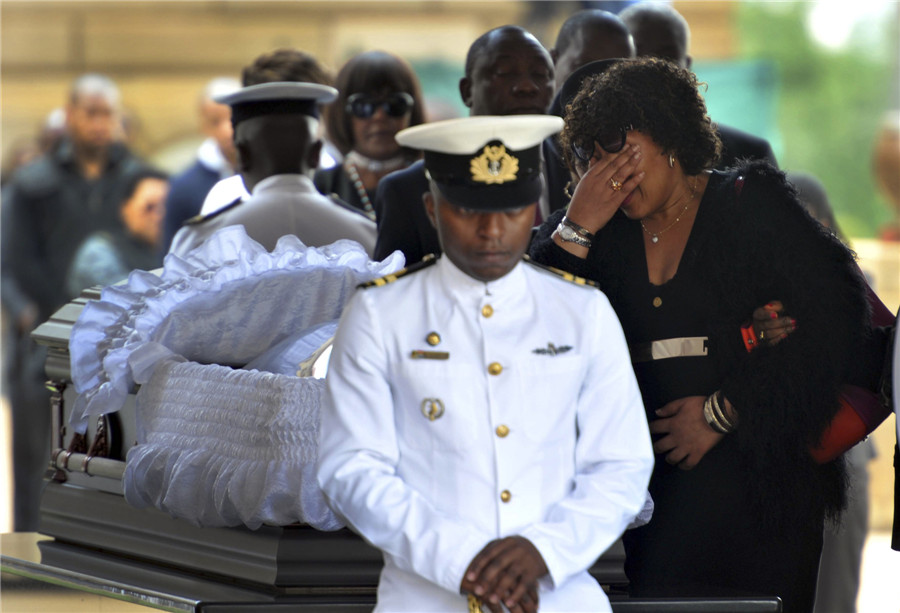 Zenani Dlamini (R), daughter of former South African President Nelson Mandela, covers her eyes as she pays her respects at his coffin as he lies in state at the Union Buildings in Pretoria, in this Dec 11, 2013 handout picture provided by the South African Government Communication and Information System (GCIS). [Photo/Agencies]
PRETORIA - Thousands of people queued on Wednesday to say goodbye to Nelson Mandela, whose body was lying in state in Pretoria in the building where the anti-apartheid hero was inaugurated in 1994 as South Africa's first black president.
Foreign dignitaries and celebrities joined thousands of South Africans at the imposing Union Buildings, perched on a hill overlooking Pretoria, for a last chance to see the body of the man regarded as the father of democratic South Africa. Some carried infants on their backs.
Mandela's flag-draped casket was met by officers representing branches of the military on arrival from the capital's main military hospital, in a formal ceremony that contrasted with Tuesday's memorial.
Thousands of mourners lined the streets as the black hearse, led by a procession of police motorcycles, wound its way to the official seat of government.
Mandela's death on Thursday at the age of 95 has brought an outpouring of grief and mourning in the country he led as president from 1994 to 1999, as well as celebration and thanksgiving for his life and achievements.
"This is a significant moment for me and my children," said teacher Thapelo Dlamini, 48, who had been waiting on the street for two hours with his two children.
Traffic in Pretoria was gridlocked from early morning and shops along the procession route were closed.
The Nobel Peace laureate will be buried on Sunday in Qunu, his ancestral home in the rural Eastern Cape province, 700 km south of Johannesburg.