JOHANNESBURG - Chinese Vice President Li Yuanchao on Tuesday expressed deep condolences and paid high tribute to former South African President Nelson Mandela, saying Chinese will always cherish Mandela's contribution to China-South Africa relations. (Watch Li's speech here)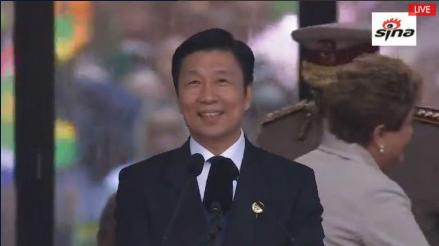 Chinese Vice President Li Yuanchao speaks during the memorial service of Nelson Mandela in  Johannesburg, South Africa, Dec 10. [screen grab from a Sina video]
Speaking at the memorial service held in FNB stadium in Johannesburg, the special representative of Chinese President Xi Jinping said Mr. Mandela was the pride of the African people.
"For all his life, he had strived for the liberation of African nations, championed the dignity of the African people and endeavored to advance the unity of all African countries and move forward Africa's cooperation with the world," Li said.
He had dedicated his entire life to the development and progress of Africa, he added.
He referred Mandela as one of the founding fathers of China- South Africa relations. "Mr. Mandela had committed himself to China-South Africa friendship and China-Africa cooperation with great passion. The Chinese people will always cherish the memory of his significant contribution to China-South Africa friendship and China-Africa relations," he said.
He mentioned Mandela was an old friend of the Chinese people and a household name in China. "We are deeply saddened by the loss of such a great friend. At the same time, we are heartened to see that the cause Mr. Mandela had started will be carried forward," he said.
He also mentioned South Africa as a major emerging country which is playing a constructive role on the international stage and actively upholding the legitimate rights and interests of developing countries. "We believe that under the leadership of President Zuma and the government of South Africa, the South African people will continue to make big strides forward along the path of national rejuvenation and development," he said.
"China stands ready to work with South Africa to deepen China- South Africa comprehensive strategic partnership, bring benefits to the two countries and two peoples, and make positive contribution to the noble cause of world peace and development," he said.
Li is among more than 90 world leaders who came to the memorial service to honor Mandela who died of lung trouble on December 5 at his home at the age of 95. The leaders include U.S. President Barack Obama, British Prime Minister David Cameron, Brazilian President Dilma Rousseff as well as U.N. Secretary General Ban Ki-moon.
Mandela led the decades-long struggle against apartheid in South Africa. He was jailed for 27 years and released in 1990. Mandela became South Africa's first post-apartheid president in 1994.