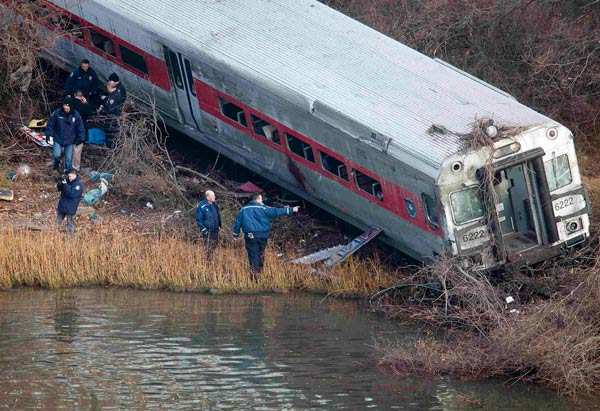 Emergency workers examine the site of a Metro-North train derailment in the Bronx borough of New York December 1, 2013. At least four people were killed and 63 injured, including 11 critically, when the suburban train derailed, with at least five cars from the Metro-North train sliding off the tracks, officials said. [Photo/Agencies]
A suburban New York train derailed on Sunday, killing at least four people and injuring 63, including 11 critically, officials said.
All seven cars of the Metro-North train derailed off a large curved section of track at 7:20 a.m. in New York about 100 yards (meters) north of Metro North's Spuyten Duyvil station in the Bronx borough, said Aaron Donovan, a spokesman for Metro North, a subsidiary of New York State's Metropolitan Transportation Authority (MTA).
A spokesman for the city fire department confirmed the number of dead and said 11 people were in critical condition, six were in serious condition with non-life threatening injuries and another 46 sustained minor injuries.
The train was about half full at the time of the crash, with about 150 passengers, the MTA said.
"On a workday, fully occupied, it would have been a tremendous disaster," New York City Fire Commissioner Salvatore Joseph Cassano told reporters at the scene.
At least one rail car was lying toppled near a river and police and other rescue workers were searching for survivors along the shoreline.
New York Police Department divers were seen in the water near the scene of the accident, and dozens of firefighters were on the scene helping pull people from the wreckage. None of the passengers were in the water, an MTA spokeswoman said.
After touring the scene, New York Governor Andrew Cuomo said his thoughts and prayers were with the dead and injured. He said details about how the accident would impact the morning commute on Monday were not yet available.
Those injured were being transported to area hospitals, said New York City Fire Department spokesman Michael Parrella.
The train was a diesel with seven cars. The locomotive was on the north end pushing the cars southward.
"This train was not scheduled to stop and was not making a stop at Spuyten Duyvil," the MTA said in a statement.