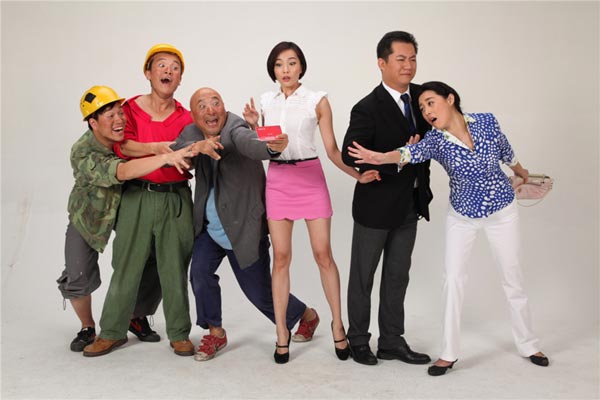 Chen Peisi (third from left) invites veteran actress Liu Bei (far right) to perform in his classic comedy The Balcony. Photos provided to China Daily
Growing audiences prove Beijing Comedy Festival has the last laugh. Chen Nan reports.
Comedy is hard but not for this funnyman. Ever since Chen Peisi became a household comedy star after performing in a sketch comedy for CCTV's Spring Festival Gala in 1983, he has been known for making audiences laugh.
His latest approach to conjuring laughs is the use of dialects, which will be fully displayed in the upcoming Beijing Comedy Festival.
"I spent lots of time traveling around to watch comic dramas during the past few years and I have learned that dialects are old-fashioned but still a source of comic relief," the 59-year-old says.
"When you talk to a person with a dialect, you know where he comes from and you can tell his personality from his accent and facial expression, which is authentic, and the humor is authentic, too."
The veteran comic has chosen eight comic dramas for the 2013 Beijing Comedy Festival, which he founded three years ago, such as Love Is Not Blind, adapted from the popular film with the same name by Shanghai-based director He Nian, and Thieves on Journey by Tianjin People's Art Theater.
Chen also points out that China has thousands of dialects, which are treasures for comic dramas in theaters.
"I have observed the feedback from audiences in different cities around the country when the dramas were performed. The local audiences could share the humor, which has been designed by the scriptwriter or director. The audiences, who don't live with the dialect, could also find some hilarious moments not intended by the dramas' creators," he says.