Cameron to arrive with big delegation
By Li Xiaokun in Beijing and Zhang Chunyan in London ( China Daily )
Updated: 2013-12-02 01:08:11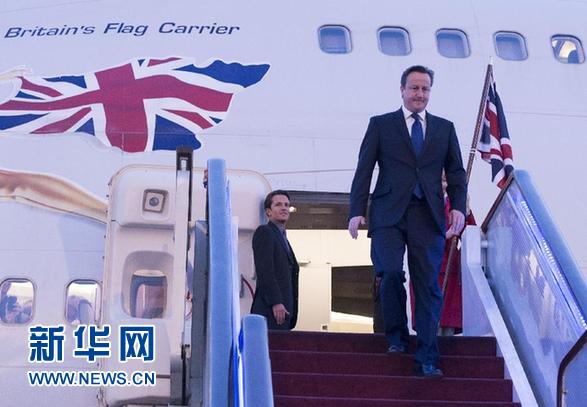 British Prime Minister David Cameron arrives in Beijing on Monday morning. [Xinhua]
British Prime Minister David Cameron arrives in Beijing on Monday morning to kick off the highest-level bilateral exchange since a dispute over the Dalai Lama severely impacted relations last year.
The trip is widely expected to mark a "turning point" in Britain's ties with China, both economically and politically, and touch upon major projects such as nuclear energy and high-speed rail, observers said.
"The UK is looking to finally remove any lingering tensions which came from the meeting last year between Cameron and the Dalai Lama," said David Dickinson, an expert on the Chinese economy at the University of Birmingham.
Relations between Beijing and London cooled after the British prime minister's meeting in May 2012 with the Dalai Lama, who advocates "Tibetan separation".
Beijing said the meeting seriously interfered with China's internal affairs.
The Financial Times said in a report on Friday that for the past 18 months Cameron has not been able to meet his Chinese counterparts.
"The visit is expected to produce deals, but it is as important for its symbolism as it is for signing contracts," the paper said.
Cameron promised in 2010 that he would double British trade with China by 2015. But a UK Foreign Office study in January showed the UK share of the Chinese market had fallen to just 1 percent, well behind other European rivals such as Germany and France.
In May, Cameron said in Parliament that Britain does not support "Tibetan independence" and that he had "no plans" to meet the Dalai Lama.
Cameron said earlier this month that he wanted to "forge a relationship that will benefit both our countries and bring real rewards for our peoples".
"We have turned a page on that issue," a senior source in Cameron's office told Reuters ahead of the visit.
The timing of Cameron's trip was good, the source said, because it came soon after China' leadership set new long-term policy priorities which included further opening up the economy.
Feng Zhongping, vice-president of the Chinese Institute of Contemporary International Relations, said Britain, a permanent member of the UN Security Council, holds important diplomatic resources and plays a significant role in efforts to push for China's cooperation with Europe.
"It is normal that the two countries disagree on some issues. What matters is how they treat and handle the issues."
Cameron is scheduled to meet Chinese leaders and attend a summit of Chinese and British commercial leaders on Monday.
It is reported that he will also visit Shanghai and Chengdu.
Cameron is accompanied by a delegation of ministers and at least 120 business people, the largest British trade delegation put together. The name list reportedly includes the bosses of Jaguar Land Rover, the English Premier League, Royal Dutch Shell, the London Stock Exchange and GlaxoSmithKline.
Before his departure, Cameron sent his first message on Sina Weibo, a popular micro-blogging platform in China.
"Hello, my friends in China. I'm pleased to have joined Weibo and look forward to visiting China very soon," he said in the message on Friday.
Talking about China-UK ties, Dickinson from the University of Birmingham said: "There has been a distinct improvement over the past year. With a growing economy and increasingly affluent Chinese consumers, the UK will wish to continue to develop strong ties with China".
He said Britain will look for ways to build opportunities resulting from the recent deal on the yuan trading in London. The relaxation of visa approval for Chinese tourists is another policy on which to build.
The UK will also push for the opening-up of Chinese markets and encourage more Chinese investment in high-risk projects.
The Chinese, on the other side, will be interested in how the UK will handle its relationship with the EU and how open the UK is to further Chinese investment, he said.
Contact the writers at
lixiaokun@chinadaily.com.cn and zhangchunyan@chinadaily.com.cn
Wang Mingjie contributed to this story.

China taken on as building partner
Meetings with central and Eastern European heads underline China's global roal.