TCM needles point the way
By Tuo Yannan ( China Daily Europe )
Updated: 2013-11-22 10:31:08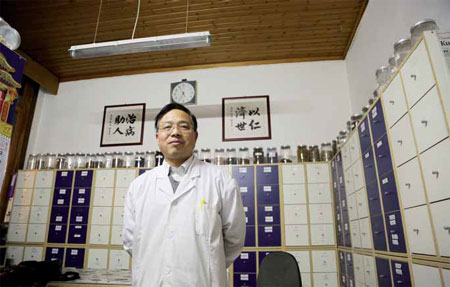 Wang Zhongbin, who has run a TCM clinic in Antwerp for eight years, says about 80 percent of his clients are non-Chinese. Tuo Yannan / China Daily
Efficacy helps Chinese medicine win over European patients
Looking at Rosemarie Austria lying on a bed at a TCM clinic in Antwerp, it is easy to believe that she is in a modern Western hospital. But a closer look shows that the 54-year-old Belgian is in a small three-bed clinic with her knees full of needles, a requisite for her second round of acupuncture treatment.
"Although it hurts a little, the procedure has worked wonders for my dodgy knees," she says, adding that she was the first among her friends and family to try out TCM treatment. Austria says she was attracted to TCM as it was a therapy using herbs and techniques that have been used in China for thousands of years.
"The severe pain in my knees was hampering my daily routine. One day I chanced upon the TCM clinic in Antwerp's Chinatown and decided to give it a try," Austria says.
The clinic, Renji Chinaturel Medical Centre, is bang in the middle of Chinatown. Even though the sign outside is small, it has managed to attract scores of patients who throng its doors every day in search of alternative therapies for common, recurring and in many cases chronic complaints.
Wang Zhongbin, who has operated the clinic for more than eight years, says the clinic specializes in acupuncture therapy.
The first thing that strikes you about the clinic is its compactness. There is just a small doorway and a flight of stairs that takes patients onto the reception area. Here you can see various types of Chinese medicines in the countless small square cupboards, while pictures of acupuncture points hanging on the walls give the look and feel of a Chinese clinic.
In the clinic, Wang chats with his customers in English, French and Dutch, even as he moves swiftly among patients and adjusts the needles.
Wang was born in Jiangxi province in 1962, and became a Chinese medicine teacher and a doctor in his hometown after graduating. In 1997, when he was working as a professor and doctor at the Jiangxi University of Traditional Chinese Medicine, he was sent to Tunisia for a three-year stint as an acupuncture expert. He started learning French from then on, he says.
In 2000, on his way back to China, he stopped in Paris for a few days and fell in love with the city. In 2003, he went to the University of Poitiers in France for his second master's degree and was later on invited by friends to set up a TCM clinic in Belgium.
Recollecting the early days, Wang says that most of his early patients were Chinese. "Only 20 percent of my patients are Chinese now." Many patients like Austria come to the TCM clinic on their own, while others through referrals, Wang says.
His first foreign patient was a Belgian who came to him for treatment for chronic neck pain. "The acupuncture therapy helped cure his pain, and he recommended my name to several other European clients."
Wang says he even receives patients from Germany and cites the example of an opera singer from Stuttgart who visits Antwerp just for TCM treatment.
At the same time, he says it is not easy to convince foreign patients about the efficacy and safety of TCM.
"While some patients are supporters of natural, herbal and other alternative treatment, there are those who are concerned about the pain caused by surgery. Acupuncture therapy addresses most of the common problems effectively," he says.
Lufrano Nicola, an Italian chef, testifies the benefits of TCM. Nicola used to suffer from debilitating pain after surgery and was prescribed powerful painkillers that had side effects. After hearing about TCM from his wife and friends, he decided to consult Wang. "I came here twice a week for two months, and now my pain has almost disappeared," he says.
Knowledge of acupuncture and Chinese medicine has grown in Europe in the past decade, thanks to the promotion of Chinese media and the cultural communication between the West and the East, Wang says.
Acupuncture is the pioneer of TCM in European markets, and is more readily accepted by Europeans, as it is more of therapy than medicine. Wang says there is a Belgian Acupunctors Federation and a school specialized for teaching acupuncture.
However, it is still difficult to import Chinese medicines into Europe, especially patent drugs due to the differing quality standards.
"There are only one or two Chinese medicines that have been cleared for the European market," Wang says.
"The Chinese government must take steps to further improve the quality control measures for TCM medicines as it will lead to more exports to Europe," Wang says, adding that he sources most of his Chinese medicines from the Netherlands, as it is a more mature import market than Belgium.
However, lack of Chinese medicines is just one reason for the limited spread of TCM. Most European insurance companies do not cover TCM treatment, experts say. In the Netherlands and other European countries, TCM treatment is covered partially, while in several others like Belgium legislation is expected.
A one-hour treatment session at Wang's clinic costs 30 euros, while the same procedure can cost about 100-150 euros in Switzerland. But in Switzerland, the treatment is covered by insurance.
tuoyannan@chinadaily.com.cn

Gear change
'Sustainable development', 'decisive role for markets' are the new buzzwords for Chinese economy.