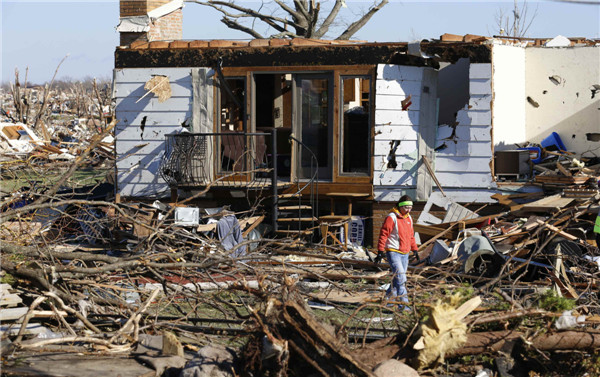 A woman walks through the debris from the destruction caused by a tornado that touched down in Washington, Illinois, November 18, 2013. [Photo/Agencies]
WASHINGTON, Illinois - Dozens of tornadoes swept across the US Midwest in a rare November blast of warm-weather storms, leaving at least eight people dead and unleashing powerful winds that flattened entire neighborhoods, flipped over cars and uprooted trees.
Illinois was the hardest hit, with at least six people killed and dozens more injured. Authorities said Monday that two other deaths occurred in Michigan.
The governor and others said the search for anybody trapped in the rubble continued, but officials doubted that the death toll would climb. Illinois Emergency Management Agency Director Jonathon Monken said rescuers had just one field left to search in the hard-hit town of Washington before they can say with confidence that everyone has been accounted for.
The six people who died in Illinois included an 80-year-old man and his 78-year-old sister who were killed by a twister that hit their farmhouse near the rural community of New Minden. In Michigan, officials said a 21-year-old man died when his vehicle was crushed by a fallen tree and a 59-year-old man was found dead and entangled in high-voltage power wires.
As the rain and high winds slammed into the Chicago area Sunday, officials ordered the evacuation of fans from a football stadium and moved the Bears and Baltimore Ravens  teams off the field for a about two hours, in a highly unusual interruption of a National Football League game.
Just how many tornadoes hit was unclear. According to the National Weather Service's website, a total of 65 tornadoes struck, most of them in Illinois. But meteorologist Matt Friedlein said the total might fall because emergency workers, tornado spotters and others often report the same tornado.
Matt Friedlein, a weather service meteorologist, said that such strong storms are rare this late in the year because there usually isn't enough heat from the sun to sustain the thunderstorms. But he said temperatures Sunday were expected to reach into the 60s and 70s Fahrenheit (from 16 to 26 degrees Celsius), which he said is warm enough to help produce severe weather when it is coupled with winds, which are typically stronger this time of year than in the summer.
In Illinois, Gov. Pat Quinn declared seven counties disaster areas.
Between 250 and 500 homes were either damaged or destroyed in the town of Washington, Mayor Gary Manier said Monday. He said it wasn't clear when residents would be allowed to return.
"Everybody's without power, but some people are without everything," Manier told reporters in the parking lot of a destroyed auto parts store and near a row of flattened homes.
"How people survived is beyond me," he said.
The tornado cut a path from one side of town of 16,000 people to the other, knocking down power lines uprooting trees and rupturing gas lines, State Trooper Dustin Pierce said.