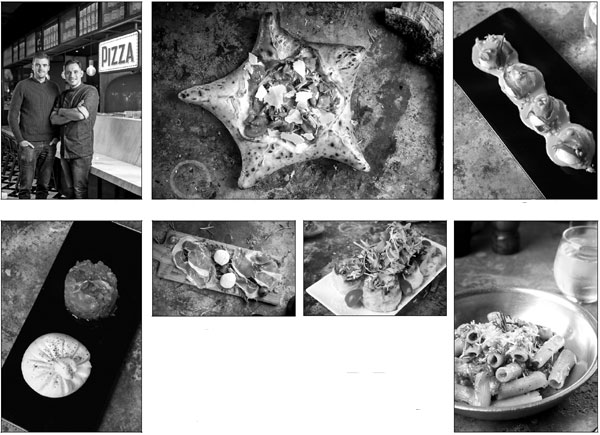 Clockwise from top left: Co-owner David Connolly (left) and Chef Paolo Salvo; a star-shaped pizza; fried scallops; rigatoni pasta with chunky beef ragu; an Italian snack made from mozzarella and sausage ; Parma ham and mozzarella; Burrata Caprese. Photos Provided to China Daily
Bottega chef Paolo Salvo is tapping into Beijing's growing appetite for authentic Italian pizza with his new downtown eatery.
Italian pizza restaurant Bottega is making its authentic Neapolitan-style pizzas available to more Beijing foodies with the opening of its second restaurant in the capital's downtown.
You can satisfy your taste buds by enjoying appetizers, salads and more than 20 kinds of pizzas, which are thin, soft and juicy and come with fewer toppings, true to the Italian style.
All the ingredients used to make Bottega pizzas are imported from Italy, such as the flour and cheese. A traditional stone oven, originally built in Naples and weighing 3 tons, was shipped to the Beijing restaurant for its opening. The high-temperature oven is fueled by eco-friendly charcoal imported from Italy and only takes around 90 seconds to cook a pizza.
Gambero Rosso, an Italian food and wine guide recently awarded the restaurant as one of the Top Italian Restaurants in the World 2018, a prize that aims to recommend authentic Italian food outside of Italy.
Compared with its first restaurant in Sanlitun, the new Bottega is more stylish and spacious, with 120 seats and a larger outdoor space. It's situated about 1 kilometer away from Liangmaqiao subway station.
"Beijing is a new and potentially large market. It takes time to make Chinese customers understand Italian pizza and I'm trying my best to learn about their tastes," Bottega's chef Paolo Salvo says. His grandfather is Salvatore Salvo, a pizza master in Naples, which is traditionally credited as being the birthplace of pizza.
He adds that many Chinese people are more familiar with American-style pizzas, which are completely different from traditional Italian pizzas.
"As for Italian pizzas, Roman-style ones are crispy, so it's easy to eat them with your hands. Since Neapolitan-style pizzas are soft with moist cheese, people often eat them with knife and fork," he says.
One of their best-selling dishes is the Burrata Caprese, where they form fresh Italian burrata white cheese into the shape of a Chinese steamed bun, and add diced plum tomatoes, pesto and other ingredients.
The restaurant invented the dish to pique the curiosity of their Chinese customers with its familiar appearance. The chef also uses less salt in his dishes to cater more to local tastes.
Another recommendation is the rigatoni pasta with chunky beef ragu (meat-based sauce), which takes six hours to cook over a gentle heat.
You can also sample classic pizzas such as a Margherita or Bufalina at the restaurant.
Legend has it that when Margherita of Savoy, the queen consort of Italy, visited Naples in 1889, a chef created a new pizza for her with red tomatoes, green basil and white cheese to represent the Italian flag. The pizza was then named in her honor.
The Bufalina pizza uses buffalo mozzarella, San Marzano tomatoes and fresh basil, to create a perfect combination of flavors.
From the age of 12, Paolo Salvo was happy to be taught how to make pizzas by his father, the son of Salvatore Salvo, a pizza master from Naples. The secret to making a good pizza is to allow the dough to slowly rise for 24 hours to ensure the base will be delicious and light, Salvo says.
For about 90 years, members of the Salvo family have been running pizzerias in and around Naples. But the chef came to Beijing five years ago to make a name for himself outside of Italy.
"Chinese customers have different eating habits. Italians usually order one 12-inch pizza per person and may share a few dishes. But Chinese like to try all kinds of food and share them together, including pizzas," he says. He likes Chinese wheat-based foods, such as noodles, dumplings and mince rolls.
"Pizzas for residents of Naples are just like beef noodles for people in Lanzhou (Gansu province)," says David Connolly, co-owner of Bottega. He notices that more options for eating Italian food in Beijing have sprung up, especially over the last three years.
"It's all about the quality. Italians in Beijing frequent Bottega for the good food and atmosphere. In the beginning, about 20 percent of our customers were Chinese, and the rest were foreigners. But now, more and more Chinese are coming here," Connolly says.
It's always important to pair delicious food with wine, and the restaurant boasts 70 kinds of well-chosen wines - most of which are Italian.
Connolly suggests Dogajolo from the Carpineto winery in Tuscany as a good match for pizza, because of the aromatic red wine's cherry, coffee, vanilla and spice flavors.
Bottega also stocks imported beers, and mixes up classic cocktails with a twist, such as a Bellini made from Italian white wine prosecco, and a Lucano Sour made from the bittersweet Italian liqueur Amaro Lucano.
It's refreshing to have a glass of Aperol Spritz - a popular aperitif in Italy that consists of Aperol, prosecco and soda, garnished with a piece of orange.
Italians also like to drink sodas mixed with different kinds of fruit juices, and at Bottega you can try a popular brand from Sicily.
If you go
Bottega
12 pm-12 am, first floor of Shang, 20 Xinyuanli West, Chaoyang district, Beijing. 010-6410-9800.