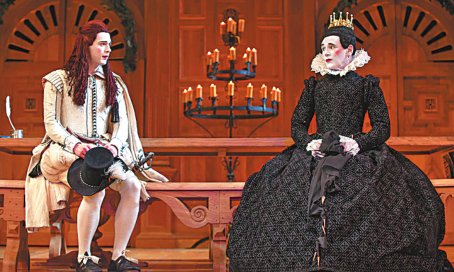 A new production of William Shakespeare's Twelfth Night featuring an all-male cast. [Photo provided to China Daily]
The National Theater Live is returning to China in 2018, with more screenings of sellout English stage productions.
Launched in the United Kingdom in 2009, National Theater Live, an initiative that broadcasts British theater productions to cinemas around the world, has brought works featuring film actors, such as Benedict Cumberbatch and Tom Hiddleston to Beijing and Shanghai since 2012.
Among the eight productions, the National Theater Live will bring the hit musical, Follies, starring Imelda Staunton, Janie Dee and Philip Quast; Tony Award-winning director Ivo van Hove's new work Obsession, starring Jude Law; a critically-acclaimed version of Edward Ablee's classic, Who's Afraid of Virginia Woolf and a new production of William Shakespeare's Twelfth Night featuring Tamsin Greig.
Besides, the highly-praised productions, One Man, Two Guvnors and Skylight, will return a third time to Chinese cinemas thanks to its popularity and positive reviews.
According to co-organizer, Beijing-based ATW Culture Media Ltd, the sole distributor of National Theater Live in China, 28 new productions will be screened in cinemas and 16 productions will be streamed online, in the first half of 2018.
Besides working with National Theater Live, ATW Culture Media, in collaboration with UK distribution company Trafalgar Releasing will also bring theater content on screen in China from the Royal Shakespeare Company's Live from Stratford-upon-Avon, Almeida Theater Live and Branagh Theater Live.
Following the success of the King and Country series of Shakespeare history plays, the Royal Shakespeare Company's Live from Stratford-upon-Avon will return with two productions, Julius Caesar, one of the most famous historical tragedies written by William Shakespeare and Titus Andronicus, one of Shakespeare's most violent plays that is rarely performed on stage.
Separately, American distribution company BroadwayHD will present two new Tony Award-winning productions, Indecent and Present Laughter.
The Russian company, Stage Russia HD, will bring The Seagull, a classic play by Anton Chekhov.
A new live brand, More2Screen, will bring two more screening categories-dance and exhibitions-to China, including English choreographer Matthew Bourne's revivals of three classic ballets, Swan Lake, Sleeping Beauty and The Car Man, and the exhibition of Hokusai: Mitsubishi by British Museum, alongside David Bowie Is by Victoria and Albert Museum.
According to Li Chongzhou, the CEO of ATW Culture, since 2015 the company has distributed and promoted 39 theater productions on screen from seven major brands worldwide.
And with over 1,400 screenings, theater productions in the form of cinema screenings have reached more than 200,000 people across 24 Chinese cities.
"For Chinese theatergoers, this is a rare opportunity to experience world-class theater productions at home," says Li.
"New content and new categories will shorten the distance between China and world's top theater productions, and enable more Chinese to enjoy the finest shows from all over the world."