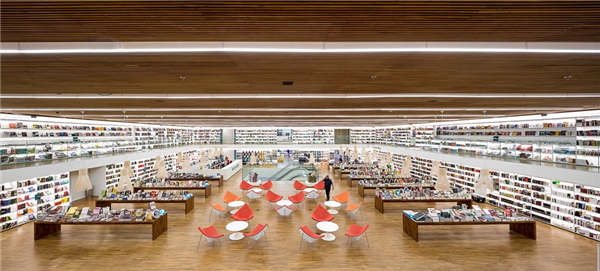 Inside the Livraria Cultura, a bookstore in San Paolo, Brazil. [Photo provided to China Daily]
A new kind of shopping in which you can enjoy stylish architecture and snazzy interior design as you buy stuff, or down cups of coffee as you read, is staving off the demise of bookshops.
The streets around Chunxi Road in downtown Chengdu help make up one of the wealthiest and swankiest areas you will find in Southwest China. In the hustle and bustle of the sprawling low-rise Sino-Ocean Taikoo Li shopping center, exquisitely dressed young women pose for photos that, with the glass-clad Gucci store or the pastel blue walls of a Tiffany store as their glamorous backdrop, will no doubt shortly adorn the pages of social media or websites. It is quite likely that the car that roars by now and again will be a Ferrari or a Porsche.
In short, everything here seems to be designed to charm the eye-but you can almost guarantee that it will also tax your pocket.
Just across from the Gucci shop, on the basement floor of the Sino-Ocean Taikoo Li shopping complex, the cup of fruit juice that had set you back 40 yuan on the other side of Shamao Street will cost as little as 10 yuan. So here at least Chengdu lives up to its reputation for its comfortable weather, delicious food and affordability.
At 10 pm, when the commercial areas of most of China's biggest cities empty out as people make their way home, it seems that Chengdu's citizens simply begin another shift of their relaxed lives. On Shamao Street between 100 meters and 200 meters away from the luxury shops, long lines, made up predominantly of young people, form in front of tea shops or shops selling local delicacies such as roasted pigs' feet or spicy dumplings.